EXCLUSIVE
Ten Hag is 'here to stay' after morale-boosting Liverpool win
Mitchell Fretton
LiveScore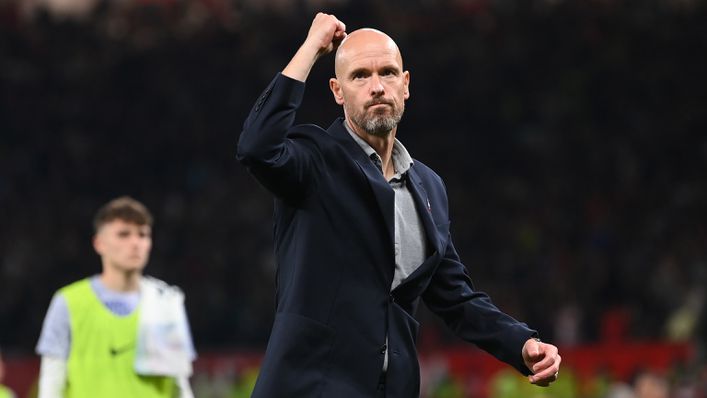 Author and football journalist Matt Dickinson believes Manchester United's win over Liverpool proved that Erik ten Hag is in it for the long haul.
The Red Devils recorded their first win of the season, beating their arch-rivals 2-1 under the lights at Old Trafford courtesy of goals from Jadon Sancho and Marcus Rashford.
Club captain Harry Maguire was dropped to the bench and there was a sense of excitement around the Theatre of Dreams on Monday night despite having zero points on the board before kick-off.
Dickinson praised Ten Hag's willingness to make tough calls and believes he is making an impression on the squad.
He said: "He clearly got it into their heads that he is here to stay, that he is willing to make hard decisions which he did by dropping the captain and getting them to raise their game.
"The confidence is back and we will see how secure it is over the next couple of weeks. Beating Liverpool shows there is a serious coach there, a coach who is willing to make big decisions.
"We have to give Ten Hag time to put his imprint on the team. You saw Bruno Fernandes given the armband and blossom.
"Ten Hag made two or three key decisions that came off. If we look at the work on the training ground, then there is a coach there that merits backing and will get it."
Adapt or die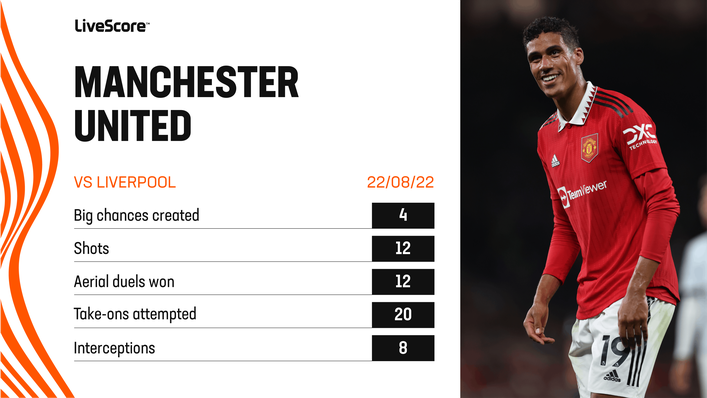 United carried out their game plan to perfection against Liverpool and Dickinson was impressed with Ten Hag's willingness to adapt his style.
He added: "We were all blown away by the transformation in energy levels, there were a couple of simple tactics — that are not always easy to deliver — for example targeting Trent Alexander-Arnold.
"There were some smart moves, bringing [Anthony] Martial on at half-time, moving Rashford out into the channel which rewarded him with a goal. I think we saw Ten Hag use a few different tactics including that pacey counter-attacking style.
"United like to be on the front foot but if that is what works for now, especially in big games like that, then Ten Hag will stick with it.
"He must forge his own way. There is an expectation of front-foot, dynamic, stylish football but for now they have sunk so low that the fans will accept winning football, certainly in the short term.
"Being Manchester United manager comes with expectations of chasing for the biggest honours with style but in the real world, I think you can't escape those expectations, but there has to be a bit of realism at the moment, it's almost baby steps."
Transfer policy not on the money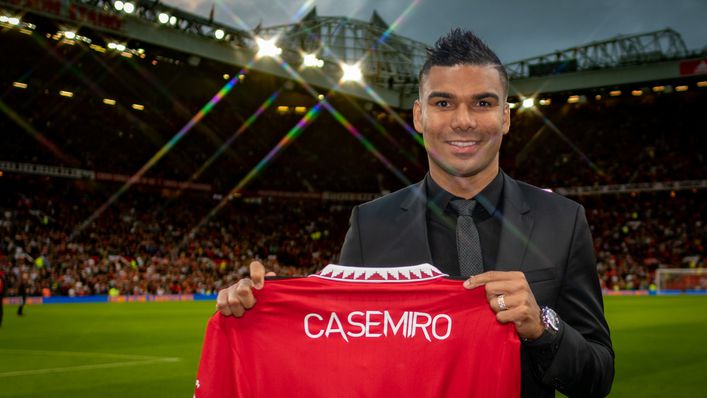 New signing Casemiro was unveiled to the United faithful before the game.
Paying £60million was a hefty fee for a 30-year-old and the recruitment over the summer has been questioned by many.
Dickinson believes there is a lack of strategy from the board when it comes to signing players.
He said: "Ten Hag has some of his own targets but they have also just thrown money at trying to fix other problems.
"With a serious coach doing good work on the training ground, Casemiro and [Christian] Eriksen should be a step, but we are talking big steps to get up with winning top prizes, even competing for them by rivalling Manchester City and others.
"It's undeniable that the recruitment strategy at United has been hap-hazard for many years now, there are going to be ongoing questions about that strategy.
"Casemiro is the sort of transfer that has been done as the window is starting to close.
"We know they've failed with other targets and they need to give this manager backing that sures him up and gives him the chance of not sinking into the malaise that other managers have gone through in the last five to 10 years."
Poor ownership
United were already a hugely successful club when the Glazer family took over in 2005 and while there has been success on the pitch during their tenure, there are still huge problems off it.
Dickinson questioned whether the Glazers were right for the club, despite winning 13 trophies under their stewardship.
He said: "Are the Glazers the right owners? You can buy Casemiro and you can buy other signings, and I don't think they will ever convince United fans or journalists that they are good owners for Manchester United.
"Now there is a credible alternative to the Glazers in Jim Ratcliffe that is not going to disappear, that will only fuel the idea of there being a better way for United than having these American owners who have been complacent for 10 years.
"They have taken money out, they have spent a lot on transfers but done it badly, there has to be better than that out there.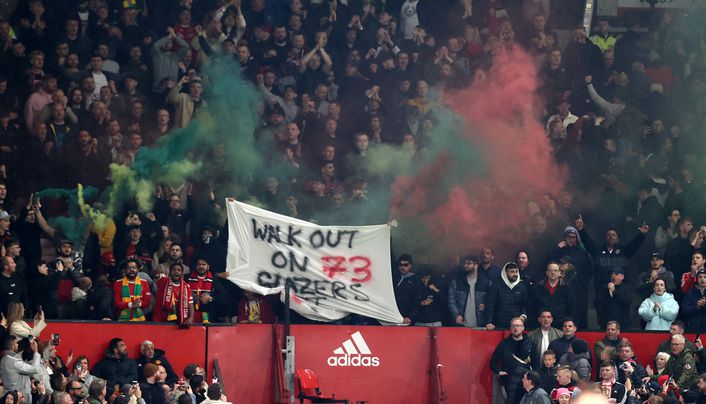 "Jim Ratcliffe has not become a billionaire without being a serious player. The interest is genuine and at the same time, the Glazers are so hard to second guess.
"They have been proved stubborn, big-headed, deluded at times as well, but their business intentions are that they need investment in the stadium and that could be hundreds of millions of pounds there.
"They are not the type to dig into their pockets for that. Do they really want to load more debt on the club?
"It sounds like they are looking for some financing, Jim Ratcliffe would only take a minority stake if it was with a view to full ownership.
"There is a cloud of uncertainty around the Glazers at the moment, until they make some intentions clear we are all trying to pick at the edges of this story, but they do need some further cash.
"They are looking around for financing options and I think they are not going to listen to the fans, they never have before, thousands of fans marching before the Liverpool game might not make the difference.
"But they have a credible potential buyer now and if they don't ask for stupid money, it will be fascinating to see what will happen if they were willing to sit down with Jim Ratcliffe and talk about possibilities."
The glory days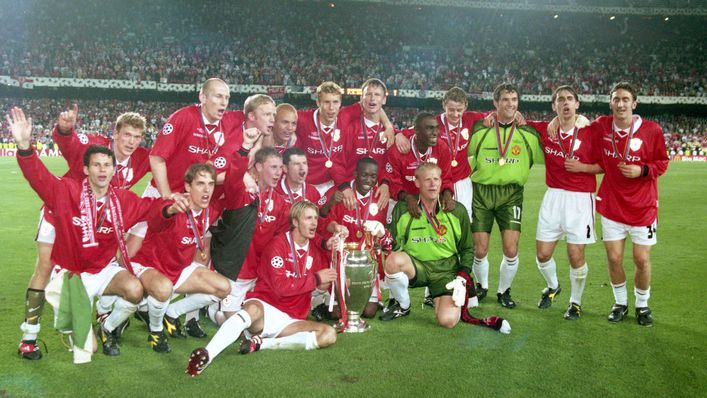 Dickinson was speaking to mark the launch of his new book 1999: Manchester United, the Treble and All That, which tells the story of one of English football's greatest ever sides.
In writing the book, Dickinson discussed how impressive the achievements under Alex Ferguson were in 1999 and how the drama of that season is truly unrivalled.
He said: "The Treble is unique. In recent years, Liverpool, Manchester City, all that talk about Quadruples and they have stumbled just short which shows how hard it is.
"For drama, as far as I'm concerned, it's unrivalled. On top of that, the reason there were so many comebacks in that season is because they were a thrilling team who took risks, were adventurous and that meant that they conceded goals, which is very different from what we see from the more modern teams like City.
"It seems like that season had every ingredient you could ever want for perfect sporting drama.  
"I've broken the book into 99 chapters because I found there were so many insights and flavours I wanted to give, the more people I spoke to the more stories I stumbled across.
"I think we see the accountability in the club. The year after United lost the double to Arsenal, the board sit Ferguson down and they ask him if he's lost it, they criticise his summer signings and his work ethic.
"Unsurprisingly Fergie blows his top and threatens to quit on the eve of the Treble season.
"That accountability where the board were actually asking him hard questions, demanding improvement. This was something that was passed down, Ferguson demanding from his players, Roy Keane demanding better from the players underneath him.
"The core of leadership that went from the board to the manager to the captain and into the team, that was such a key recipe for success. That's what Ten Hag is trying to get back at Old Trafford."
Tags