England's Women's Euros win evidence of development, says Finland great Kalmari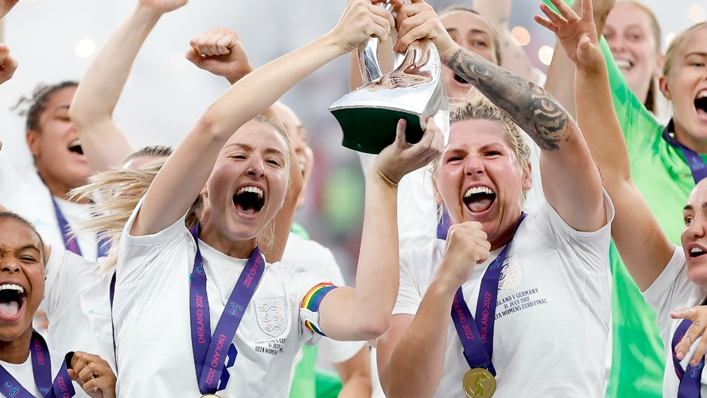 England's triumph at Euro 2022 was "inspirational" and the tournament showcased the significant improvement of women's football, according to Finland great Laura Kalmari.
Sarina Wiegman's Lionesses ended 56 years of major tournament hurt for England with a 2-1 victory over Germany last month, with Chloe Kelly's close-range finish in extra time proving decisive in front of 87,192 people at Wembley Stadium, setting a new attendance record for any European Championship match (men or women).
England scored 22 goals throughout the tournament – also a record for a men's or women's European Championship – as they sparkled on home soil, while Wiegman became the first coach to lift the trophy with two different sides after triumphing with the Netherlands in 2017.
Speaking exclusively to Stats Perform ahead of Wednesday's Super Cup between Real Madrid and Eintracht Frankfurt in Helsinki, Kalmari lauded England's achievements.
"It was a very big tournament, and it has been amazing. England did very well, they had the crown. Very inspirational to the young boys and women," Kalmari said.
"England were very good, and you can see the results they have done in the country. Many club teams are working for the players and that is the result, that you become a top country."
UEFA revealed after the final that a total of 574,875 fans attended matches throughout the tournament, smashing the previous record of 240,055 set at the 2017 finals.
The tournament has been praised as a potential landmark moment for the women's game, an assessment with which Kalmari agrees.
"It was just an amazing tournament," she added. "The level of the games has developed very much. You see all the countries getting better all the time.
"We need to show it to more people and keep going with our hard work.
"Equal game means that everybody has the same opportunity, that we don't think it is a boys' or girls' game. Everyone has to have the same opportunity to be what they want to be."
Having made 130 appearances for Finland between 1996 and 2011, scoring 41 times, Kalmari is among the most decorated players in her country's history, but insists she is not envious of the those playing at a time of increased recognition for the women's game.
"[I'm] not jealous, I am so happy that it is going further. It takes time, but I know that it is very important to win a strong battle and now we are starting to see the results in so many countries," she added.
"So many countries are working so hard for women's football and so many clubs, and you can see the results are there."
Tags