In Focus: Should Jordan or Henderson be first Pick at Euro 2020?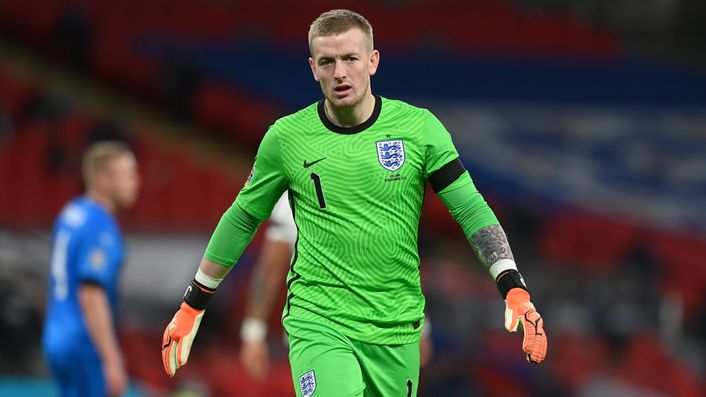 Jordan Pickford's status as England's No1 has rarely looked under threat — but Dean Henderson's fine form could force a changing of the guard at Euro 2020.
Questions over Pickford's performances and Henderson's increased game time have led to calls for the Manchester United keeper to be handed a starting berth at the tournament.
As England begin their preparations with a friendly against Austria tonight, we consider who should get the nod when Southgate picks his side to face Croatia on June 13.
Why would Southgate drop Pickford?
Doubts about Pickford's ability are nothing new — the Everton star's performances have been under scrutiny since his first England start in 2017.
The 27-year-old's career has been a series of peaks and troughs in the years that have followed, veering between sublime shot-stopping displays and error-strewn performances for the Toffees.
His mistimed tackle on Virgil van Dijk in last October's Merseyside derby thrust Pickford into the national spotlight for all the wrong reasons, while Carlo Ancelotti's decision to rotate him with back-up Robin Olsen was hardly a ringing endorsement from his former manager.
A false representation?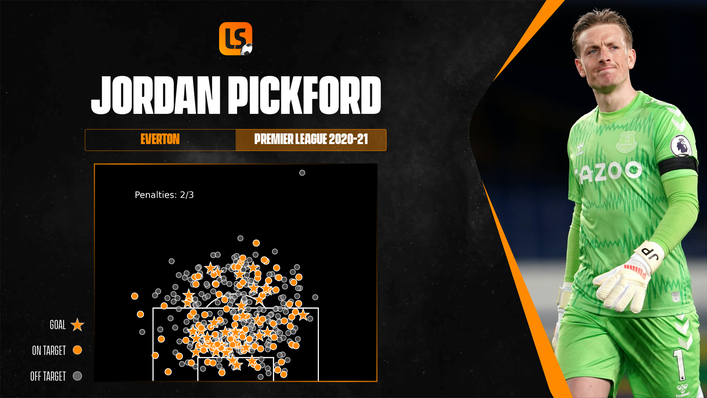 Pickford's improved performances in the second half of the season go some way to vindicating Ancelotti's approach.
Reflecting on the goalkeeper situation at Everton back in March, he said: "I think he [Pickford] is doing well because I rotated him.
"I took him out from a little bit of pressure. He is doing well now."
The former Sunderland man's form has undoubtedly picked up in recent months.
Save percentage is generally accepted as the best statistical measure of a goalkeeper's performances — a calculation of shots on target against, minus goals conceded, divided by shots on target against — and Pickford's numbers have improved significantly since the turn of the year.
His save percentage increased from 66.67% during the first half of the campaign to 71.05% in 2021.
That raises the obvious question — why would Southgate drop him now after standing by him during the tougher periods of his career?
Staking a claim
For all Pickford's improvement, there are those who think Henderson has simply developed into a better goalkeeper.
That was arguably the case as early as 2019-20, when the 24-year-old's 75.2% top-flight save percentage was only beaten by Tottenham's Hugo Lloris (79.6%) and Arsenal's Bernd Leno (77.6%).
Henderson was sensational while on loan at Sheffield United that season and is now repeating those performance levels at Old Trafford — challenging established first-choice David De Gea by excelling in his 13 Premier League appearances and 26 in all competitions.
He achieved a save percentage of 75.7% in 2020-21 and conceded just 0.96 goals per 90 minutes — both in the 88th percentile or higher when compared with goalkeepers in Europe's top five leagues and competitions.
The 6ft 2in custodian has emerged as a composed presence between the sticks and would bring a sense of calm to England's defence at Euro 2020.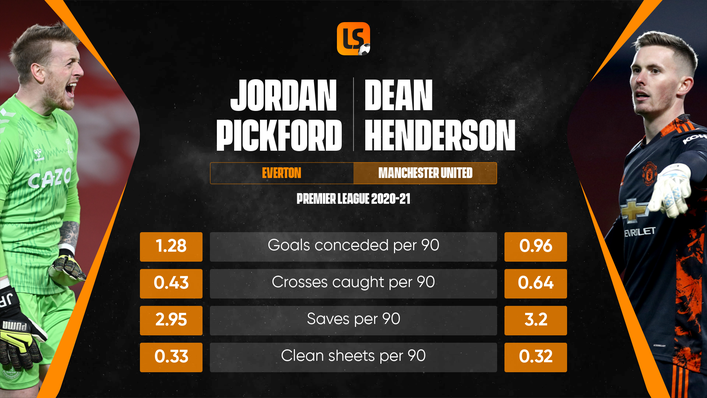 Experience
It is inadvisable to go into a major tournament with a rookie starting goalkeeper, such is the pressure of playing on the biggest stage.
Even experienced operators such as Joe Hart have been overcome by the intensity of the occasion in the past, so playing a relative novice like Henderson would be a risk.
The Cumbrian stopper has made just one international appearance to date and was not a regular for United across the whole campaign.
In contrast, Pickford has been there and done it at the 2018 World Cup and the 2019 Nations League finals — saving a spot-kick in both of those competitions.
Safety first
Pickford's penalty save against Colombia in 2018 is etched into the minds of England supporters and Southgate will not have forgotten his shootout heroics.
He may have endured difficult times at Everton but he has never let down his boss at international level.
That record in an England shirt, alongside Pickford's excellent distribution, will surely see him start in goal when the first Group D match against Croatia rolls around.
Now is not the time for gambles and inexperience — going with the tried and tested option at Euro 2020 is surely the smart choice for Southgate to make.
Tags