In Focus: Smith Rowe Gunning for the top with club and country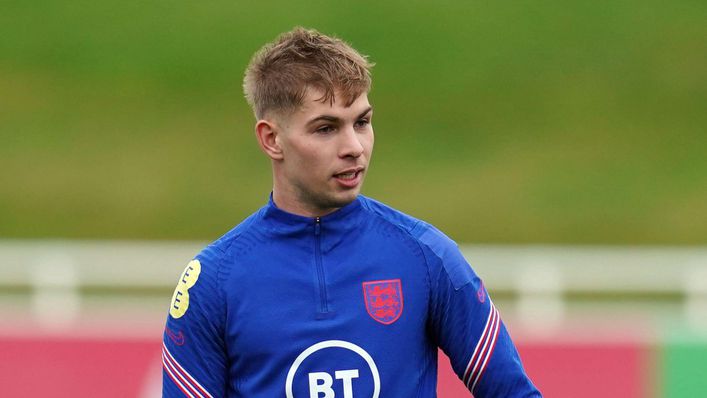 Emile Smith Rowe may be an international footballer by the next time he pulls on an Arsenal shirt.
Called up to the England squad as an injury replacement, the 21-year-old is in Gareth Southgate's thinking for the games with Albania and San Marino.
Breaking into the Three Lions side is no easy task these days, even if you are ripping up the Premier League.
So how has Smith Rowe found himself making the step up so quickly?
End product
Last season, Smith Rowe made his first Premier League appearance on Boxing Day.
Between then and the end of the campaign, he played 20 times for the Gunners in the league but only managed two goals and four assists.
And after five games without a goal contribution to kick off this season, it looked like Smith Rowe's end product was still lacking.
But four strikes and two assists in his past six league games have proven he can be clinical, leading the wider footballing world to wake up to his ability.
Sky Sports pundit Gary Neville reckons he is better than a certain Cristiano Ronaldo at the same age after the Croydon-born youngster talked up becoming one of the best in the world.
Neville said: "He's a beautiful footballer and he's got a long way to go in his career.
"Cristiano Ronaldo wasn't as clinical and ruthless at that age.
"But that's where he has got to get to. To the point where by every single game, they want to be the best.
"They want to score the winner. They believe they are going to score the winner. Confidence is unbelievable."
Looking after yourself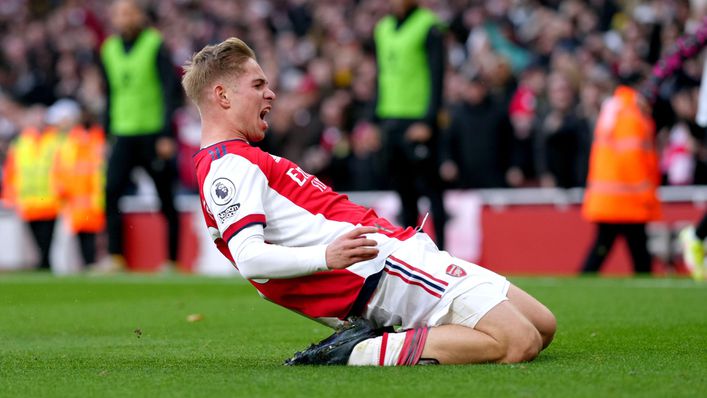 Part of Smith Rowe's improvement is down to the realisation that he needs to treat his body right.
His natural ability on the ball is clear for all to see — but the top footballers combine that ability with complete dedication to their craft.
Smith Rowe has admitted that is something he had never really done before. Now that he is, performances are speaking for themselves.
He said: "I didn't used to eat that well to be honest. I used to get cramp after 60 minutes and stuff.
"I wasn't eating great, I wasn't drinking that well, before games I wasn't really that hydrated but since then I've tried to focus so much on it.
"My family have helped me a lot in the house as well, cooking for me. It was mainly my diet, nutrition and stuff like that. That's really helped me.
"They [Arsenal] are strict but I didn't really listen to be honest, I think that's where I went wrong. But now I'm listening, all the time.
"I like Nandos a lot. Maybe that's killing me a little bit. I've tried to cut out chocolate and takeaways as much as I can. I'm always eating from home now."
Freedom
After rumours linked him with a switch to Aston Villa, Smith Rowe signed a long-term deal at the Emirates in late July.
Whereas other players have seemingly taken their foot off the gas after securing lucrative paydays in North London, the academy hero has done completely the opposite.
It has given him the confidence to nail down a regular spot and seemingly driven him to new heights.
Arsenal legend Ian Wright recently said: "If you spoke to him last season when he was in and out just before he really blasted in, all he spoke about was: 'I just want to be consistent and I just want to score more goals.'
"When you think about the time he said that to what he's doing now, he's actually doing it.
"What I'm absolutely over the moon with is that he got this massive contract, a lot of money and it's literally not fazed him one bit. That is a fantastic sign.
"People don't realise that. With certain players there's a drop off because the comfort is now in and they can have anything.
"So you find that somewhere along the line, something kind of softens.
"It's nothing like that with him and it's nothing like that with [Bukayo] Saka.
"They're not swayed or after anything other than success. It's so exciting for Arsenal."
England debut
After initially being overlooked for the current squad, Marcus Rashford's injury opened up a spot for Smith Rowe.
England are not short of quality in attacking areas with the likes of Phil Foden, Mason Mount and Jack Grealish all ahead of the Gunners man in the current pecking order.
But Southgate is likely to hand him his international debut in the coming days having already been impressed with him in training.
Southgate said: "We have brought him to be involved with the team in the two matches. He has settled really well.
"He obviously knows a couple of his club team-mates and Phil [Foden] from the [England] Under-17s.
"This is a group that makes new players very welcome so it's not a difficult environment to settle in and his quality has been apparent from the way he has trained."
Fire Gunners to top four
A regular England spot may be hard to claim — and to do so, Smith Rowe may need to first fire Arsenal back into the Champions League.
It is four seasons since the Gunners dined at European football's top table.
But their current eight-game unbeaten league run has fans dreaming of a return to the top four.
And Mikel Arteta has called on their No10 to be the man that takes them there.
The Spanish coach said: "We're demanding that to get to another level he needs to start deciding games.
"He's capable of doing that, he believes in that now, he's confident and he needs to continue doing it."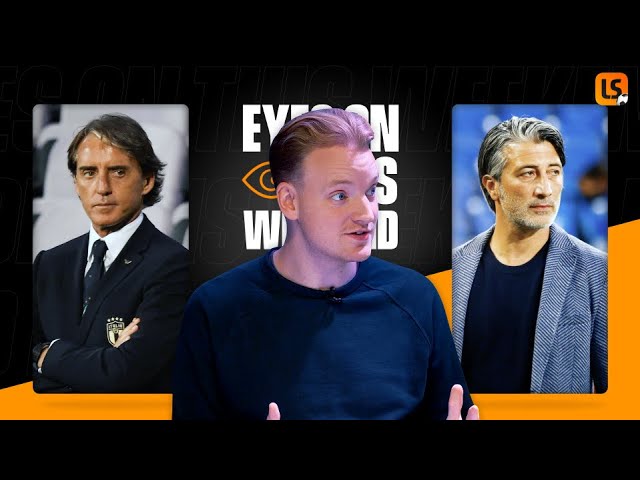 Tags