Eintracht Frankfurt supporters ban declared illegal ahead of Napoli trip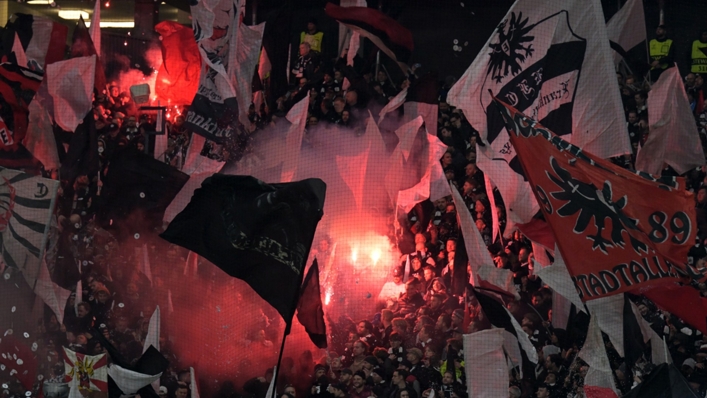 A decision to ban Eintracht Frankfurt supporters from attending the second leg of their Champions League tie against Napoli on Wednesday has been declared illegal by an Italian court.
Last month's first leg – a 2-0 win for Napoli – was marred by clashes between the two sets of supporters.
The Italian Ministry of the Interior subsequently issued an injunction to prevent the Serie A leaders from selling tickets to visiting supporters for Wednesday's meeting at the Stadio Diego Armando Maradona.
Eintracht vowed to fight against that measure and have now had it overturned, though the Italian authorities are expected to lodge an appeal of their own.
An Eintracht statement issued on Saturday read: "The competent administrative court granted Eintracht Frankfurt's application for a temporary injunction this Saturday afternoon.
"Accordingly, the ban on the sale of tickets to people residing in Germany, which was imposed on SSC Napoli for the second leg of the last 16 of the Champions League on Wednesday, March 15, has been declared illegal.
"For the time being, the leaders of Serie A will be required to provide Eintracht Frankfurt with a total of 2,700 guest tickets.
"Nevertheless, it is to be expected that the Prefecture of Naples will appeal against this decision of the administrative court, which will be decided on Monday or Tuesday of the coming week."
Eintracht board member Philipp Reschke told the club's website: "This is a great satisfaction, a milestone, which was also unexpected for our Italian lawyers.
"We have to reorganise everything that we and many others had to cancel in the past few days, so the game goes on."
Tags