Hazard and Carlo 'don't talk' as Real outcast reveals plan for next season
John Skilbeck
Stats Perform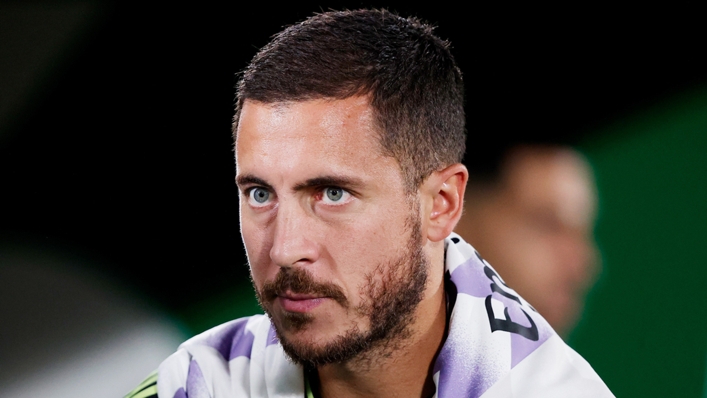 Eden Hazard has decided to stay with Real Madrid next season as the club's forgotten superstar clings to the faint hope of reviving his Santiago Bernabeu career.
The Belgian winger was Chelsea's player of the year in 2018-19, his final season at Stamford Bridge, hitting 16 goals in 37 Premier League games and helping the Blues win the Europa League.
Since leaving London as a 28-year-old at the peak of his powers, however, Hazard has suffered a wretched run of injuries that have blighted his Madrid career.
He has been fit for most of this season, but Ancelotti seemingly regards him as peripheral to his plans, and there is no obvious prospect of his status changing.
Hazard has played only 98 minutes in LaLiga this term and just 297 minutes across all competitions, and he has one season left on his contract before the club can discard the €100million man.
All the same, Hazard hopes that one year can be transformative, and he told Belgian broadcaster RTBF: "I would like to stay here. I have always dreamed of this club. I'm only waiting for one thing. That is to be on the pitch to prove that I can still play football, even if people doubt it, which is normal.
"There is only one thing that could get me out of the spiral in which I am, and that it is to play. After months without a game, I know I wouldn't score five goals in my first game. I need time. But at Real, we don't have the time.
"I see in training that I can bring something. I feel good physically. But there are other players who are doing well."
Hazard is destined to be watching on as Madrid tackle Liverpool in the Champions League on Wednesday before facing Barcelona in LaLiga on Sunday.
Addressing his relationship with Ancelotti, Hazard said: "There is respect between us. But I'm not going to say that we talk to each other, because we don't talk to each other.
"But there will always be respect. I have to have respect for a guy like Carlo Ancelotti. What he represents for football, what he has done in his career. There is no problem."
Hazard was such a special player in his prime, that to be reduced to effectively begging for a chance to reignite his career at the age of 32 is a desperate fall from grace.
He continues to be paid well by Madrid, but his professional pride has been jolted.
"I'm not asking to play 90 minutes but just to feel useful," he said. "Last season, my situation was difficult to live with. It affects me less now."
He claims some Madrid team-mates have urged him to move on and find a team where he would play.
"But that's not my option," he said. "I remain convinced that I can bring something."
Tags