Duff says he never doubted decision to take on Barnsley job last summer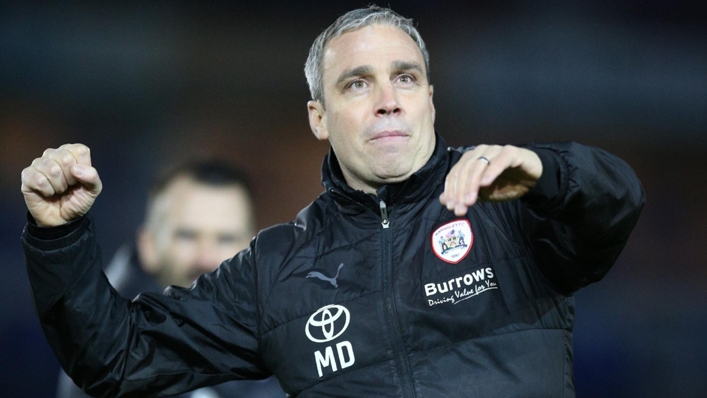 Barnsley boss Michael Duff insists he never doubted his decision to take on the job last summer after relegation had left the club in disarray.
The Reds had just crashed into the third tier after winning only six Sky Bet Championship matches, but now stand on the brink of an immediate return.
They face local rivals Sheffield Wednesday in Monday's League One play-off final, 11 months after Duff left Cheltenham to try and turn Barnsley's fortunes around.
Disillusioned fans had lost count of the players who either departed or arrived at Oakwell following relegation and despite three defeats in their first five league games this season, Duff never had any regrets.
He said: "No because I back myself no matter what. I didn't win a game for 10 games at Cheltenham and I didn't doubt myself at that point.
"I learnt a lot, but I didn't doubt myself. So a bit older, a bit wiser, a bit greyer, a lot fatter, but when I did my first interviews here and people asked where did I think we would finish, I never said anything.
"It wasn't me being evasive, I just thought 'we'll see'. But I know I work hard, I believe in what I do and obviously now we're in a shoot-out to get promoted."
Duff led Cheltenham to League Two promotion and then 15th in League One, their highest English Football League finish, before replacing Poya Asbaghi in June to become Barnsley's sixth manager in less than three years.
After an indifferent start, former Burnley defender Duff moulded a new-look team into automatic promotion contenders.
Barnsley halted Wednesday's 23-game unbeaten league run in a thrilling 4-2 win at Oakwell in March to extend their own unbeaten streak to 12 matches.
That run included 10 wins and catapulted them into top-two contention, but Duff still publicly refused to set his side any targets.
"I think talk is cheap," he said. "You can talk and talk about philosophy and all that sort of stuff. It's nonsense in my opinion.
"It's about can you get a group to work hard and stick together and find a way of playing and that's what we've done as the season has gone on and we've proved to be good at it."
Duff, whose side's automatic promotion hopes were dashed in late April when they lost at home to Ipswich, said the players' belief has grown steadily throughout the season.
"You get the players to set their own target, but how much they believed it I don't know because sometimes they pay lip service," he added.
"We'd just been relegated, what is the target? Is it the play-offs? The players almost feel they have to say, 'yeah, we've got to get in the play-offs', but I don't know how much they believed it.
"But once you start working day-to-day with them, you break it down. The first 10 games we set a target of 16 points, because generally 1.6 points per game gets you in the play-offs.
"That was the group's first target, to break it down. It's those day-to-day, week-to-week habits.
"We've got to the point now where the players can look back and say, 'we didn't need to say that, but now we do believe'.
"Now, can they have that belief one more time?"
Tags