Di Maria and Bremer back for Juventus but Vlahovic still struggling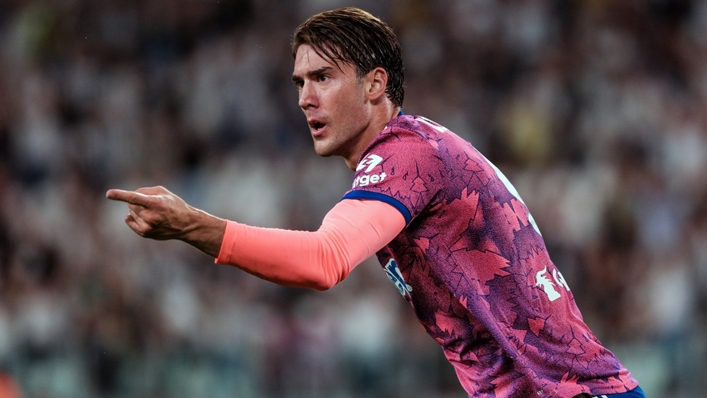 Massimiliano Allegri is set to make a number of late calls on his Juventus XI for Sunday's Derby d'Italia, with Dusan Vlahovic still not fully fit.
Vlahovic has not featured for the Bianconeri since their costly Champions League defeat to Benfica in the middle of last week.
And the Serbia striker may not return in time to take on Inter this weekend, as Allegri revealed an ongoing groin issue at his pre-match news conference on Saturday.
The coach could at least offer a more positive update on Angel Di Maria and Bremer, who are both back in the fold, although he would not confirm the role of either player at Allianz Stadium.
"[Di Maria and Bremer] are recovered – the only doubt is Vlahovic, because he is not well and tomorrow I have to evaluate," Allegri said.
"On Bremer and Di Maria, I have to decide whether to let both play or just one, but I have to evaluate."
Pressed further on Vlahovic, he replied: "We don't know if he's okay, because he's missed sessions.
"If he is well and tells me he is available, he will be on the bench; otherwise, it is useless to bring a player who cannot play."
Allegri added he would also "evaluate and decide" whether Di Maria and Bremer may be able to start on Sunday.
"The important thing is to have everyone available," he said.
Should they line up on the bench, they would likely join Federico Chiesa, whose successful return to action following an ACL tear has given his coach "a pleasant surprise".
"Now, I just have to increase his minutes," Allegri said. "Tomorrow he will definitely be part of the game."
As Inter coach Simone Inzaghi had earlier in the day, Allegri played down the importance of this match in the context of the season.
But Allegri acknowledged the need for Juve to get a result in this fixture, having taken only a single point against the Nerazzurri last term.
"It would be important [to move above Inter], but the season is long," he said. "Last year we never beat them, and we will have to do everything we can to reverse the trend."
Tags