Deschamps joins backlash against Le Graet's Zidane comments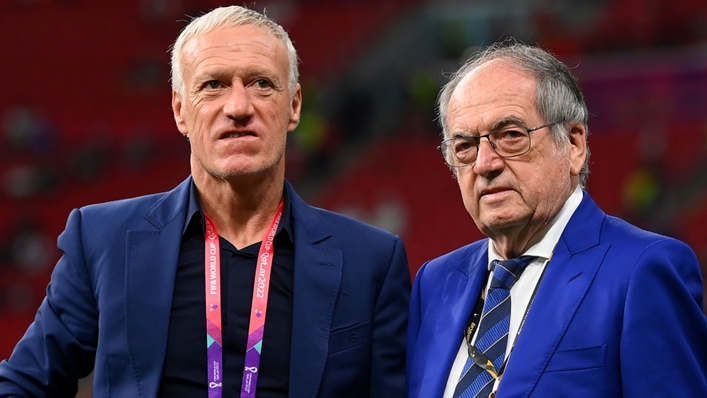 Didier Deschamps criticised Noel Le Graet's "inappropriate" comments regarding Zinedine Zidane after the French Football Federation (FFF) president stepped away from his role on Wednesday.
Le Graet has withdrawn from his duties pending a French government investigation into the governing body, with French sports minister Amelie Oudea-Castera calling for change at the top of the organisation.
That news came just three days after Le Graet caused controversy with his bizarre comments about Zidane in the aftermath of Deschamps signing a new four-year deal as France coach.
Zidane was linked with Deschamps' job following last month's World Cup final defeat to Argentina, but Le Graet said he would not "give a toss" if the former Real Madrid coach expressed an interest in leading the national team.
While Le Graet subsequently apologised, his comments were labelled as disrespectful by Kylian Mbappe and were also seen as distasteful by Deschamps.
"His words, as he acknowledged and admitted, were inappropriate," Deschamps said when asked about Le Graet on Wednesday. "I think it's a very good thing that he apologised to Zizou."
Deschamps then acknowledged constant speculation linking Zidane with his job had created a rivalry between the two coaches, who played together for Juventus and the national team.
"The sporting situation has led to a rivalry between the two of us. Even, for some, an opposition," he said of his relationship with Zidane.
"I will always have a lot of respect for him in relation to what we shared together in our first life as players, and for who he is, what he represents in football and French sports."
While Deschamps will lead France at a fourth World Cup in 2026 after penning his new deal, goalkeeper Hugo Lloris will not be present in the United States, Mexico and Canada after announcing his international retirement.
Deschamps was sorry to see his captain call time on his international career, saying: "I spoke at length with Hugo, I know him very well. I will not go into details.
"When a person is driven by a deep conviction, he does not make a decision on a whim. It was carefully thought out. I understand his decision, even if I regret it.
"He is someone who has been very important to the France team both on a human and a sporting level. We will miss him, but it is his decision, and we must say thank you for all he has done."
Tags