Denmark suffer 'embarrassing' collapse to lose to Kazakhstan in Euros qualifying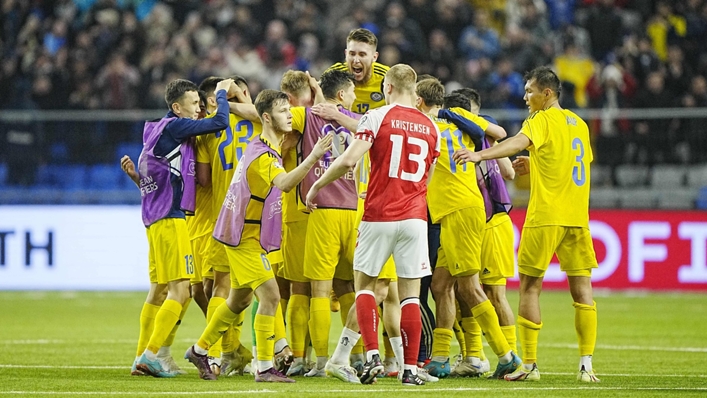 Denmark threw away a 2-0 lead to lose 3-2 at Kazakhstan and suffer an early blow in Euro 2024 qualifying.
Kasper Hjulmand's side were semi-finalists at the last Euros and were handed a relatively kind draw for this qualifying campaign, beating Finland 3-1 in Thursday's opener.
Atalanta sensation Rasmus Hojlund scored a hat-trick in that game and then grabbed another two goals in the first half on Sunday, seemingly setting up another routine win.
But Baktiyor Zainutdinov pulled one back from the penalty spot with 17 minutes to play, and Kazakhstan were back level through captain Askhat Tagybergen's spectacular long-range strike four minutes from time.
That was not the end of the scoring as substitute Abat Aimbetov nodded the winner, although he was sent off in stoppage time.
Denmark will surely still back themselves to come through the group – particularly if Hojlund maintains his remarkable form – but this was an unexpected setback.
"I have to be careful what I say right now," captain Simon Kjaer told TV2.
"We run after instead of acting. We run after and not ahead with the ball. That's the difference in the second half, I think."
Asked why he needed to be careful, Kjaer said: "It is embarrassing. We win and lose together. Today we lose together. You cannot be 2-0 up and losing 2-3. You cannot. I don't know what it was.
"It was many things. It wasn't good enough. What exactly happened in the situations I'm a little unsure about, and I don't want to say things I'm not sure of.
"We must take responsibility for the criticism that will come. And then we must move on."
Tags