Pep claims Silva-esque qualities make Foden an ideal midfielder
Patric Ridge
Stats Perform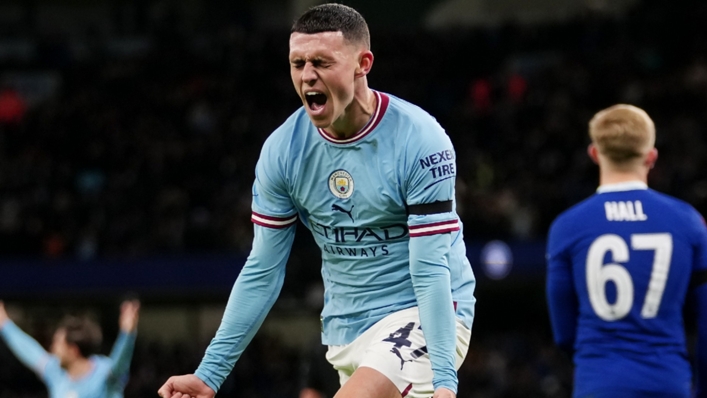 Manchester City manager Pep Guardiola has no doubt Phil Foden has the capability to play at the heart of midfield.
Foden, used mostly on the wing for both club and country, has often been touted as a future central midfielder.
He has played in the role occasionally for City, including in Sunday's 4-0 hammering of Chelsea in the FA Cup.
Having struggled to get into the game when playing on the flank in City's 1-0 Premier League win at Stamford Bridge three days earlier, Foden looked sharp in a central role and capped off a sublime team move to put City 3-0 up.
Guardiola believes Foden is learning the role, as he compared the 22-year-old's ability to City great David Silva, who moved from the wing to midfield during his 10-year stint at the club.
"He can play inside, but inside you have more attributes to do more things and pay attention more because there are more people, it is not just 'I am going to press and run', it is when and where," said Guardiola ahead of City's EFL Cup tie with Southampton.
"The spaces are minor. Wider you have time but what is important is Phil has the quality to play in these small, small spaces, it is not easy to find.
"Bernardo [Silva] and David Silva can do it and Gundo goes close to the pockets of the central defenders – Phil has the quality and ability to do it.
"He is really good in small spaces, the goal he scored [against Chelsea], he is there. The action is good, the overlap from Kyle [Walker] and the right moment, the right tempo, the pass from Riyad [Mahrez], but in that moment he is there and to score a goal you have to be there.
"In that position, especially when they play five at the back it is important to have an extra player there. We maybe missed it a bit [in the draw] against Everton.
"Phil has these attributes. Of course he can play wider on both sides, he played top class in the last years playing wider but he can play in the middle."
Foden had 45 touches against Chelsea, with 41 coming in open play.
That was the most he had managed in a City match since November 12, when he had 80 in a defeat to Brentford. Indeed, bar that game, the last time Foden had more touches was against Sevilla in the Champions League on November 2; he had 64 on that occasion, playing in central midfield.
Guardiola will want more creativity from the England international should he play in the role. Against Sevilla, Foden crafted three chances and had 10 touches in the opposition box – he only managed four in Sunday's game, albeit one of those was that fine finish to put the game to bed, and did not create a goalscoring opportunity.
Foden attempted 34 passes, more than only Julian Alvarez (18) of City's starters, completing 29 of those, while he won three of his six duels.
Tags