White sees no point in UFC punishment after physical altercation with wife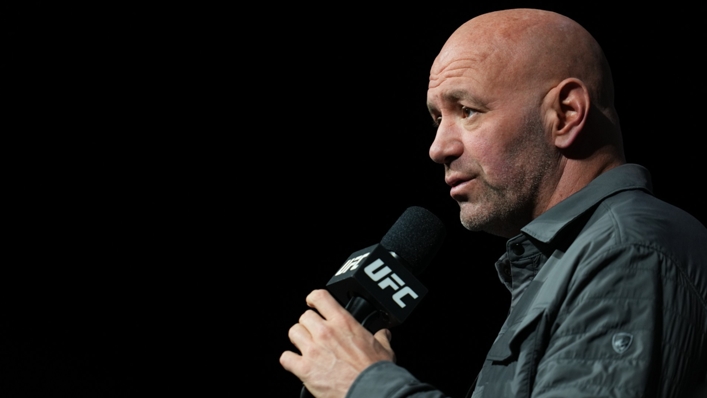 UFC president Dana White says there is no need for him to be punished by the organisation after being involved in a physical altercation with his wife.
Video footage emerged of the 53-year-old and wife Anne celebrating New Year's Eve in Cabo, Mexico, when a dispute seemingly broke out between the couple.
Anne White had her head in her hands before slapping her husband, who struck back with slaps of his own. The video emerged via TMZ, and White apologised via the US news outlet after the incident.
"What should the repercussions be? You tell me," White said when asked if he should be punished by the UFC. "I take 30 days off? How does that hurt me?
"I told you guys as we were going through [the COVID-19 pandemic], COVID could last 10 years, and I could sit it out. It's much like COVID, actually. Me leaving hurts the company. Hurts my employees. Hurts the fighters. It doesn't hurt me.
"I could've left in 2016 [when the company was acquired by Endeavor]. Do I need to reflect? I've been against this. I've owned this. I'm telling you that I'm wrong.
"Here's my punishment: I have to walk around for however long I live – and this is how I'm labelled now. My other punishment is that I'm sure a lot of people – whether it be media, fighters, friends, acquaintances – who had respect for me might not have respect for me now.
"There's a lot of things I have to deal with the rest of my life that's way more of a punishment than, what, I take a 30-day or 60-day absence?"
White, who has been UFC president since 2001, added that criticism of him for the altercation with his wife was "100 per cent warranted" and moved to discredit anyone defending his actions.
"One thing I do want to clarify in this thing that I didn't talk about on TMZ, because I didn't expect it or I didn't see it coming, is the people that are defending me," he said.
"There's never an excuse. There's no defense for this, and people should not be defending me, no matter what. All the criticism I've received this week is 100-per-cent warranted."
Dana and Anne have been married for 27 years and have three children together.
Tags