Costa Rica can 'still dream' after late World Cup win against Japan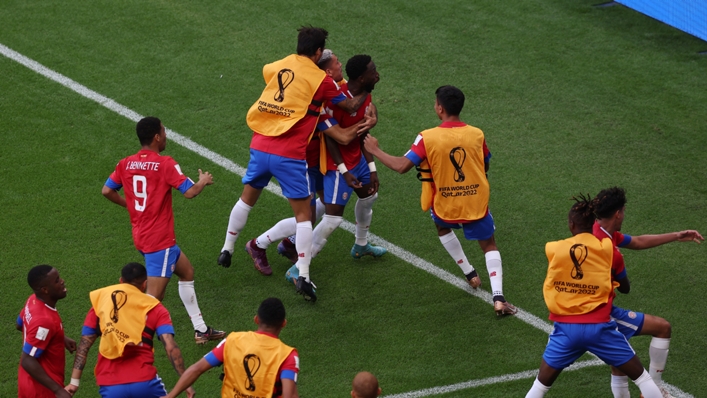 Luis Fernando Suarez is relieved his Costa Rica team can "still dream" after they sealed a vital 1-0 win against Japan at the World Cup on Sunday.
Coming off the back of a 7-0 thrashing at the hands of Spain in their opening game, Keysher Fuller's 81st-minute strike against the run of play at Ahmad bin Ali Stadium handed Costa Rica a win that gives them a chance of advancing to the knockout stage in Qatar.
Los Ticos became the first team to concede seven goals in a game and then win their next match at the World Cup since Paraguay in 1958 (lost 7-3 to France, won 3-2 against Scotland).
Head coach Suarez said he did not want to discuss "tactics or technical aspects" of the win as he praised his team at his post-match press conference.
"I believe the main thing was our ability to do such amazing things," he said. "I'm not going to talk about tactical or technical aspects, today I need to value and appreciate what they have done to get this result.
"We had to face many challenges but we firmly believed and wanted to be 100 per cent committed for our country to play well against a strong opponent like Japan.
"We are alive [in the group], that is the main thing and no-one can forget about us yet. We can still dream."
Fuller was the hero, with his goal the only shot Costa Rica have had on target in the tournament so far, and the 28-year-old added: "The main thing was to keep ourselves alive and to win, and we managed to do so.
"We were in pain after the Spain defeat, but now we took a weight off our shoulders. We are a group that wants to achieve great things."
Japan struggled to reproduce the form that saw them shock Germany in their opening game in Qatar, but the Samurai Blue still dominated large parts of the game, having 13 shots to Costa Rica's four and recording an expected goals (xG) rate of 0.8 to their opponents' 0.1.
Head coach Hajime Moriyasu was left disappointed but stated in his press conference that his team will go into their final Group E clash against Spain with confidence.
"It wasn't a bad match," he insisted. "In the second half we were trying to control the game and if we could have had total control, we would have won, but it didn't happen.
"We beat Germany but that does not mean we will beat Spain. Both countries are World Cup winners, we have a lot of respect for them.
"The Spain match will be tough but I think there is a good chance for us to win, so we have to prepare and go with confidence."
Tags