Conte confirms Kulusevski will return for Spurs in North London derby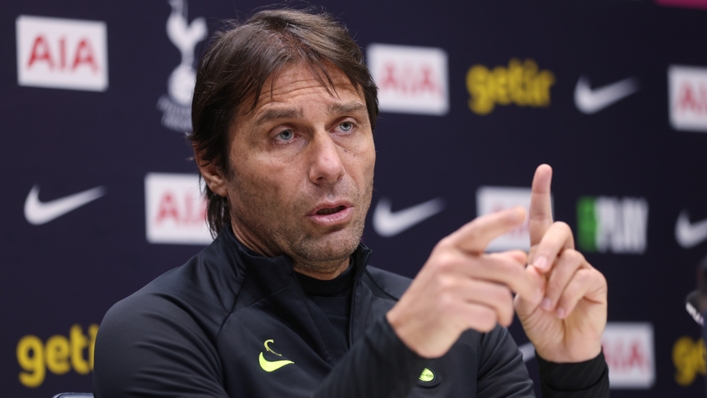 Dejan Kulusevski will be available to return for Tottenham against North London rivals Arsenal on Sunday.
Kulusevski was a key man for Spurs at the start of this season, but spent a spell on the sidelines with a hamstring injury prior to the World Cup.
The winger featured in Spurs' final three games before the tournament in Qatar, and with Sweden failing to qualify, the 22-year-old used the break to try and return to fitness.
But while he played the entirety of Spurs' first game back, a 2-2 draw at Brentford, Kulusevski was absent for the home defeat to Aston Villa with a muscle injury before also missing the victories over Crystal Palace and Portsmouth.
However, the former Juventus man is in contention for a clash with bitter rivals Arsenal, who hold a five-point lead at the top of the Premier League.
"The news for sure is the situation is going to improve, especially for Kulusevski," Tottenham head coach Antonio Conte told reporters on Friday. "He had training sessions in the last few days with us. He's going to be ready to play."
Conte will not be able to call upon Richarlison and Rodrigo Bentancur, both of whom picked up injuries while at the World Cup and have not featured for Spurs since.
"About Richy and Rodrigo, both situations are improving," Conte added. "I think in this moment Deki [Kulusevski] is much more ready to play.
"For us, it is important to have patience ahead of this period and not to risk accelerating and lose them for a long period. We will see."
Lucas Moura has also endured a frustrating time due to injury and the club have decided not to renew his contract, which expires at the end of this season.
Conte said: "This is the decision of the club [not to renew].
"Honestly in my mind, when we planned this season Lucas was an important player for us. If you see the season, he's played one or two games."
Arsenal boss Mikel Arteta has recently come under fire for his touchline antics after an angry confrontation with Newcastle United head coach Eddie Howe during a goalless draw at the Emirates Stadium, with the Gunners feeling they should have had a late penalty.
But Conte, who clashed with former Chelsea boss Thomas Tuchel earlier in the season, feels Arteta is within his rights to be animated, explaining: "Arteta is another coach that shows his passion and transfers this into the pitch and his players.
"Our job now has become really difficult, so to see a coach sat on the bench is very difficult. For sure Arteta is a coach like me, we show our passion. Nothing is prepared in your mind.
"Sometimes you can celebrate in a strange way, but this passion is a pure passion. Arteta is another coach who likes to live the game."
Conte was more critical of Arsenal's conduct as a team, after receiving two FA charges in the space of six days for their behaviour against Newcastle and then Oxford United in the FA Cup, stating: "To intimidate and create a bad atmosphere is not fair. I hate the people who try to do it."
Tags