Cavani: Poor final season in front of United fans leaves a 'bitter taste'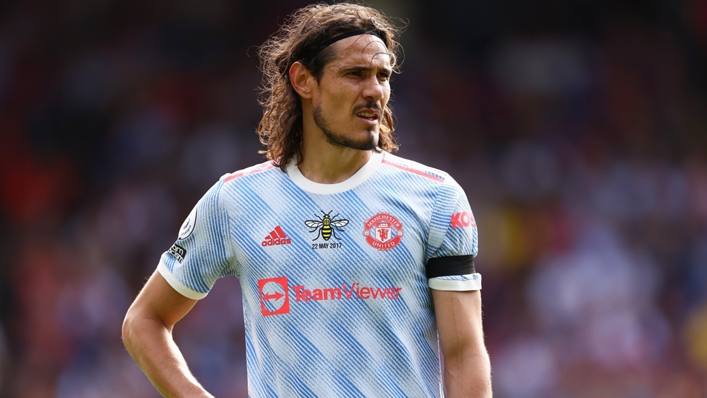 Edinson Cavani admits enduring a poor final season with Manchester United after fans returned to Old Trafford left him with a "bitter taste", as he prepares to leave after two years at the club.
Cavani is moving on from United as a free agent at the end of his contract, having scored 12 goals in 41 Premier League appearances since joining in October 2020 from Paris Saint-Germain.
The Uruguay international initially impressed for United, scoring 10 goals in his first Premier League campaign as Ole Gunnar Solskjaer's Red Devils finished as runners-up in a 2020-21 season played almost entirely behind closed doors due to the impact of the COVID-19 pandemic.
However, the 35-year-old then struggled for game-time under both Solskjaer and Ralf Rangnick during his final campaign with the Red Devils, making just seven Premier League starts and scoring two goals in the competition.
Cavani, who suffered a number of frustrating injuries and was used largely as a back-up to Cristiano Ronaldo this term, told the club's official website he regrets not contributing more in his final season with the club, the first full campaign in front of supporters since the beginning of the pandemic.
"I wanted to contribute more this season," he said.
"One of the things that has left me with a slightly bitter taste is that when we had a highly enjoyable and pretty decent season [in 2020-21], we weren't able to have the supporters along with us.
"And now, this season, with the fans coming back into the grounds and stadiums, I haven't really been able to have the kind of campaign, if I'm being honest, on a personal front, that I would really have liked.
"I would have been able to score the kind of goals I did last season, and then be celebrating them a bit more with the fans – the kind of stuff that is great for a forward or a striker to be doing.
"But I want to sincerely thank the fans from the bottom of my heart, because they have always shown me a lot of affection, and that is very important for a footballer."
Tags