Carragher tells Liverpool to sign right-back as Trent slump 'can't continue'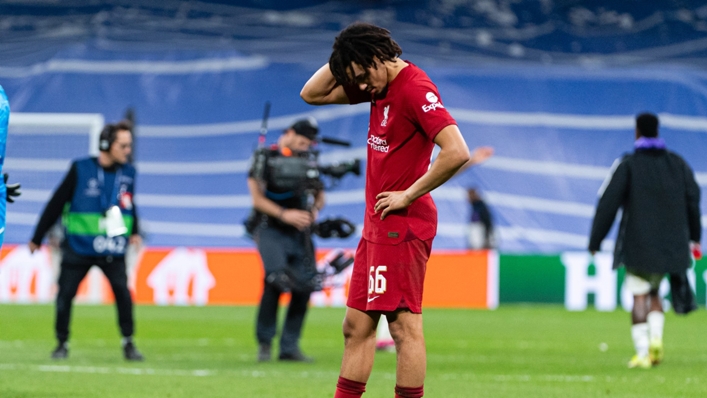 Trent Alexander-Arnold's poor form "can't continue" for Liverpool as Jamie Carragher called on his former club to sign another right-back.
Alexander-Arnold endured another difficult night up against Real Madrid superstar Vinicius Junior as Liverpool bowed out of the Champions League with a 1-0 defeat at the Santiago Bernabeu.
Such performances have been the norm for Alexander-Arnold this season, though – often against opponents of far more modest talent.
Having established himself as one of the best full-backs in world football in previous campaigns, there is concern now around Alexander-Arnold's form.
Anfield great Carragher, in his role as a CBS Sports pundit, said: "It's very, very worrying – not just for Liverpool as a team; for him. That can't continue, what's happened this season with him and the amount of times he's been lacking defensively."
Signing another right-back to compete with or replace Alexander-Arnold would be a solution, Carragher continued.
"The problem they've got in that position is they've never had real competition for Trent Alexander-Arnold," he said.
"One of the reasons why is because he's been so good. You think: who do you buy? How much do you spend for someone who's not really going to play every week?
"But I think Liverpool are at the point now where they've got to go and buy a right-back. That's Jurgen Klopp's decision in terms of how good that right-back is, how much he costs, but that lad needs serious competition.
"He's been playing now for five years at the top level, week in, week out, with no rest."
Alexander-Arnold "needs help", according to Carragher, although he suggests the defender's flaws would not be as obvious if the rest of the Liverpool team were performing as they have previously.
"I've always defended him in that he's played for one of the best teams in the world, and when you play for one of the best teams in the world, as Liverpool are, you do a lot more attacking than you do defending," Carragher said.
"We all know his defending is not good enough, and I don't think it will ever be good enough. We're talking about a player who's played 260 games; it's not going to massively improve now.
"So, when Liverpool drop off and aren't one of the best teams in Europe, like they have been for the last four years, now they're one of the pack going for the Champions League, then you're doing more defending, less attacking.
"You're seeing the worst traits of Trent and now his strengths going forward. That is a massive problem.
"I thought this problem would rear its head when Klopp left and Liverpool dropped back to where they were when I was a player, most seasons trying to qualify for top four.
"If Liverpool are trying to qualify for the Champions League on a yearly basis, I'm not sure Trent's your man at right-back.
"If Liverpool get back to being one of the best teams in Europe, which is what they'll try to do next season, he is your man."
Tags