Ecuador coach says Castillo 'will be with us' in Qatar opener despite controversial absence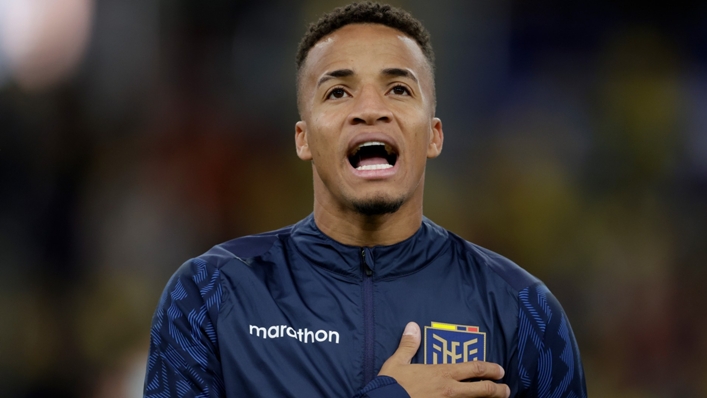 Ecuador coach Gustavo Alfaro says the absent Byron Castillo "will be with us" in an emotional sense after a controversial nationality dispute led to the defender not going to the World Cup.
Castillo was the subject of a complaint made by Chile in May, with the Chilean Football Federation alleging he was born in Colombia rather than Ecuador.
The case initially put Ecuador's World Cup qualification in doubt until the FIFA investigation was closed in June, and FIFA's Appeal Committee confirmed no further action was being taken three months later.
Chile appealed to the Court of Arbitration for Sport (CAS), who acknowledged Castillo's birthplace as being in Colombia, but the claim was dismissed on the basis of Ecuador legally recognising the player as Ecuadorian.
Nevertheless, Ecuador were still hit with a three-point deduction for the next World Cup qualification campaign for using a "document containing false information", and Alfaro was made to leave Castillo out of his squad for the World Cup as the Ecuadorian Football Federation (FEF) wanted to avoid "further unfair sanctions".
Speaking ahead of Sunday's clash with host nation Qatar, the opening game of the 2022 World Cup, Alfaro said: "I gave my opinion. He should be here, that's my opinion.
"I expressed my opinion about the CAS decision. I'm head coach, not a lawyer, I expressed an opinion, I talked to lawyers.
"I respect the decisions [of the Federation]. Byron should be here, but I respect the decision. We'll wait to see if they clarify why the three points [deduction] in the next qualifying stage, but the World Cup started in October. If he's ineligible for the World Cup, then he was [ineligible] for [October]. Ecuador is always facing hardship.
"We didn't cap him while the investigation was open. But after two sentences that said Byron was Ecuadorian, we did cap him.
"If you had only seen the pain Byron has had to endure…the love from the squad to Byron, he's now our symbol, and he'll be with us on the pitch even if he's not with us [physically]."
While there was undoubted sadness in Alfaro's voice as he discussed Castillo's situation, he otherwise spoke with great pride on Saturday as Ecuador prepare to take part in the World Cup's opening act.
He allowed himself a moment to reflect on his own history and the World Cup exploits of his Argentinian compatriots in the past, specifically Carlos Bilardo and Cesar Luis Menotti, winners in 1986 and 1978 respectively.
"First of all, as an Argentinian national, a coach, it fills us with pride [to work at a World Cup]," he continued. "In Argentina, the coaches all make a great effort to be professionals and reach this level, especially coaches like me who've had to work from the bottom up.
"I coached in the lower divisions and have a broad experience with different teams. Now this is my first national team [job] and World Cup. Looking back, there are so many famous Argentinian coaches who acted as beacons.
"Myself, Lionel [Scaloni, Argentina coach], Tata Martino [Mexico coach], we want to continue that legacy. It's up to us to represent Argentinian coaches now.
"Many have been in this position before. It's a great privilege for me to be part of that exclusive list of coaches at a World Cup, but on the other hand there aren't that many of us who've been able to coach our team in the opening game.
"Today, I feel very proud to come from Rafaela, to have been part of regional football in Argentina, and also the top division.
"I dreamed of being a coach there when everything felt so hard. I overcame many challenges and hurdles.
"I was told I wasn't good enough, wasn't up to the expectations, but when we dream we are able to achieve, I now have the privilege of being here talking to you."
Tags