Butler insists 'the last two games are not who we are' after Heat defeat
Patric Ridge
Stats Perform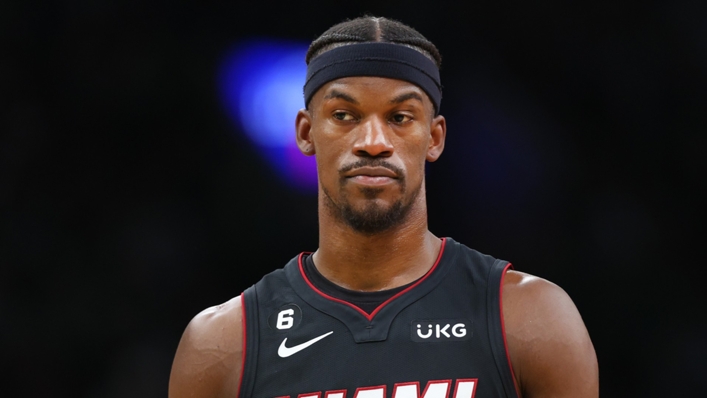 Jimmy Butler is confident the Miami Heat will rediscover their form as they aim to clinch a place in the NBA Finals.
Miami lost 110-97 to the Boston Celtics on Thursday in Game 5 of the Eastern Conference finals, cutting their lead in the series to 3-2.
Boston head into Game 6 within two wins of making NBA history – no team has ever come from 3-0 down to win a seven-game series.
Butler, though, still has faith the Heat will join the Denver Nuggets in the Finals.
"The last two games are not who we are," he said. "It just happened to be that way.
"We stopped playing defense halfway because we didn't make shots that we want to make. But that's easily correctable.
"You just have to come out and play harder from the jump. Like I always say, it's going to be all smiles, and we are going to keep it very, very, very consistent, knowing that we are going to win next game.
"We've just got to play better. Start the game off better, on the starters, make it more difficult for them.
"They are in a rhythm since the beginning of the game. But we are always going to stay positive, knowing that we can and we will win this series. We'll just have to close it out at home."
Heat coach Erik Spoelstra, meanwhile, was in bullish form when he spoke to the media.
"Who cares about mood?" Spoelstra said.
"We have a gnarly group. I think so much of that is overrated. It's a competitive series. You always expect things to be challenging in the conference finals.
"One game doesn't lead to the next game. Based on all the experience that we've had, it doesn't matter in the playoffs. It doesn't matter if you lose by whatever.
"We beat them by whatever in Game 3. It just doesn't matter. It's about collectively preparing and putting together a great game. We'll play much better on Saturday. That's all we just have to focus on right now."