Brighton chief salutes 'phenomenal' De Zerbi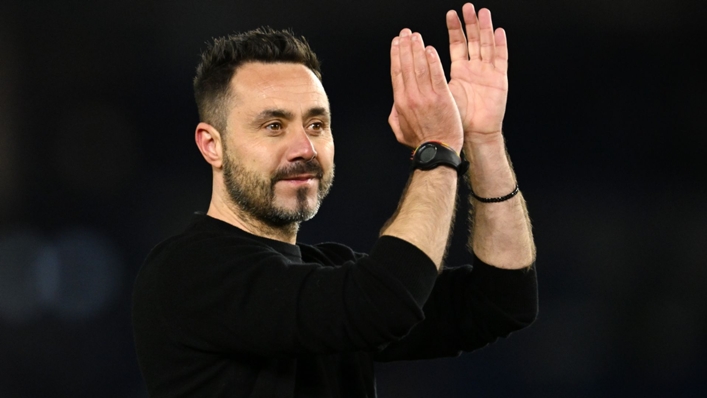 Brighton and Hove Albion chief executive Paul Barber has saluted "phenomenal" boss Roberto De Zerbi for leading the Seagulls to Europa League qualification.
Brighton will appear on the continent for the first time in their history next season after securing a hugely impressive sixth-placed finish in the Premier League.
De Zerbi has been a revelation since arriving at the Amex Stadium following Graham Potter's move to Chelsea, who subsequently sacked the coach after just under seven months in charge at Stamford Bridge.
Barber has heaped praise upon the Italian, who also guided Brighton to the FA Cup semi-finals, where they were beaten by Manchester United on penalties at Wembley Stadium.
"He's been phenomenal," the Seagulls' chief executive told Stats Perform at the Football Business Awards.
"It's his first time working in the Premier League. He's had to learn English, he's had to adapt to life in England, he's had to learn a new league, work with new players. So we're thrilled for him, and he's done a fantastic job.
"It's the first time in 122 years that we've reached European football. So it's a fantastic achievement for the coaches and the players, and we're delighted for them. And also, I think it's a great opportunity for the fans to celebrate their club in a new competition for the first time."
It was not all plain sailing for Brighton, who saw key forward Leandro Trossard depart for Arsenal during the January transfer window.
But Barber revealed the club were prepared for any possible setbacks, and while he acknowledges more players may leave, he insists that selling is not a necessity.
"The key thing has been succession planning, we have a plan for key positions within the club, should we lose people in those positions," he explained. "I think that's very important if you want to maintain momentum.
"We're fortunate that we've got a very good owner. We've got a fantastic infrastructure, we sell out all of our games, and we generate great revenues from our sponsors, and from our hospitality and non-matchday work. So no, it's not essential.
"But we also recognise that the best players want to play at the top level and it's possible we will lose players at some point."
Barber is also confident it is only a matter of time before former Seagulls boss Potter is given another opportunity following his poor spell at Chelsea.
"Graham worked with us for three years," he added. "He did a fantastic job during his time and sometimes when you move to a different club, for whatever reason, it doesn't work out.
"But what we do know is Graham is an excellent coach and an excellent individual. And I'm sure very soon, he'll be back in top-level football."
Tags