Bremer blinded by Bayern brilliance as minnows gasp at Bundesliga giants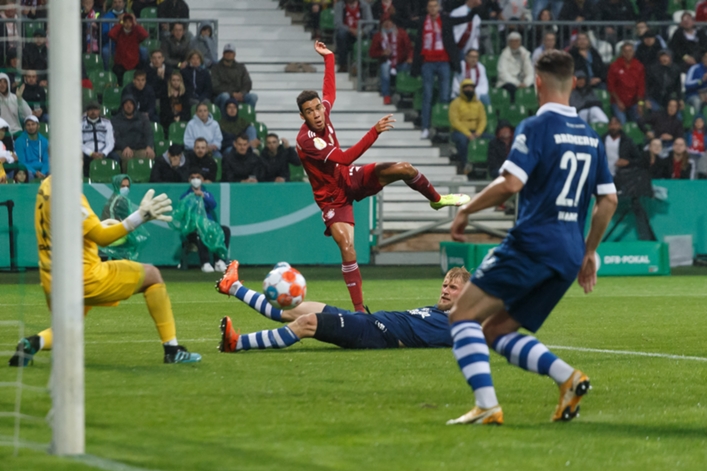 Bayern Munich's merciless 12-0 demolition of Bremer in the DFB-Pokal left the minnows' player-coach Sebastien Kmiec watching with "one eye crying and one eye lit up".
Eric Maxim Choupo-Moting hit four goals as a strong Bayern side that included Thomas Muller, Leroy Sane and Joshua Kimmich tore apart their fifth-tier opponents with "brutal" efficiency.
Bayern had 37 shots, which is the most they have had since also having 37 in a Bundesliga clash with Darmstadt in February 2016, a game in which the Bavarian giants came from behind at the interval to seal a 3-1 win.
There were no such difficulties this time, with Wednesday's deadly dozen capped by Colentin Tolisso late on.
The French midfielder had a team-high nine goal attempts and got his reward last of all by grabbing the 12th goal in the 88th minute.
Jamal Musiala also grabbed a double as Bayern put their foot down and crushed Bremer beneath their might.
Kmiec, who is an assistant to head coach Benjamin Eta, played the first 58 minutes and departed the scene with Bremer 7-0 in arrears.
"The quality is brutal, of course. We had very little to counter with. We didn't get into the 50-50s and just ran after every ball," Kmiec said, quoted on Bayern's website.
"You see it with one eye crying and one eye lit up, because it's just brutal.
"They made substitutions, but even the ones who came on wanted to put themselves forward and played their part.
"Here on the pitch you can see how fast they are, but also how quickly they think. You just have to say: outstanding."
Bayern had an 89.9 per cent passing accuracy and 68 per cent of possession against their outclassed hosts at the Weserstadion. That is now Werder Bremen's home, but was once shared by Bremer.
Bremer substituted goalkeeper Malte Seemann after 70 minutes, giving deputy Ole Bahr the final 20 minutes against the rampant Bundesliga champions. The score moved on from 8-0 to 12-0 after the switch.
In the face of Bayern's brilliance, Seemann was determined not to be deflated, labelling the game as "unbelievable" and "an indescribable feeling".
Seemann even added: "It was fun. Our boys were great and the Bayern players were all nice. That's something we'll remember."
Tags