Football rivalries: Scotland's best wins over England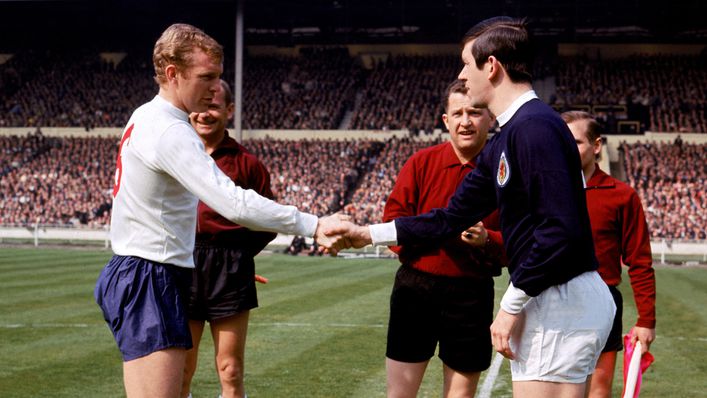 Ahead of Scotland's 150th Anniversary Heritage Match with England at Hampden Park, LiveScore's Jim Munro looks back at some of their greatest wins against the Auld Enemy.
1985: Scotland 1-0 England (Hampden Park)
A game of numerous chances in teeming Glasgow rain but just one goal decided the first winner of a short-lived trophy, the Rous Cup.
This was no game for shiny trinkets though, this was a typically hard-fought cross-border clash where rivalry was everything.
Graeme Souness, Scotland captain on the day, explained recently: "Winning the Rous Cup meant nothing but beating England meant everything."
It also marked the last time Scotland beat England at home, although there have been only five more clashes on Scottish soil over the subsequent 38 years.
In a match of brawn and grit it was up to a giant Scottish defender to provide the decisive moment.
Dundee United right-back Richard Gough took a free-kick wide right and was involved again as Scotland manoeuvred the ball across the face of the England penalty area to the left flank, where it was collected by onrushing Jimmy Bett.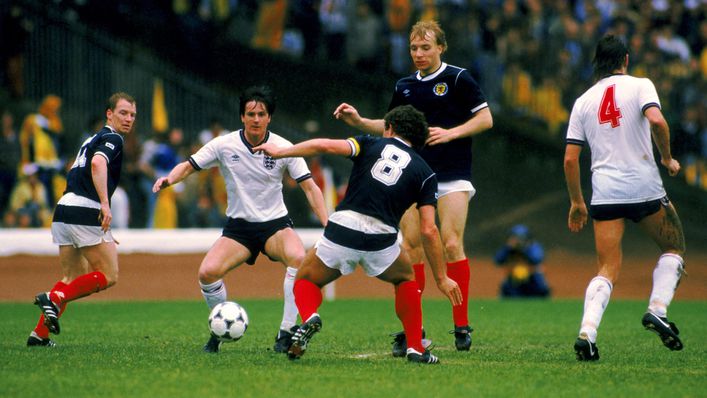 Gough said: "I just continued my run like I used to do, got in the box at the far post, and Jimmy has floated a ball right on to my head.
"I got above Kenny Sansom, all 5ft 5in of him.
"I met it with a perfect header, it just floated beautifully above Peter Shilton."
The Rous Cup had been created to honour former FIFA president Sir Stanley Rous who, although 90 at the time, was in attendance to pass the pot over to Souness.
The Scotland captain was of course more interested in celebrating his only international win against the English.
1977: England 1-2 Scotland (Wembley)
The Tartan Army swarmed onto the pitch and scaled the Wembley crossbars after this landmark win at the home of English football.
Gordon McQueen got the party started late in the first half, heading home an Asa Hartford free-kick.
McQueen said: "We'd worked on it all week, Asa aimed for the biggest thing in the park which was my head.
"It went off my head and [Ray] Clemence dived for it and I don't know why he bothered because he never even caught it on the way back out."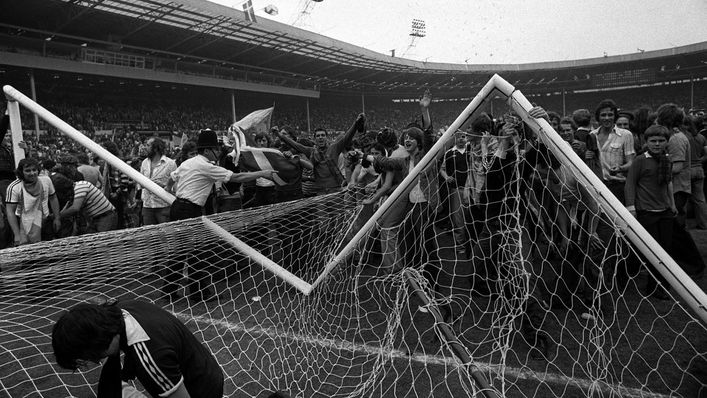 Around the hour mark Kenny Dalglish tidied up a goalmouth scramble to beat Clemence for 2-0.
Although the game was firmly in Scotland's grip, Trevor Francis earned England a penalty three minutes from time, tumbling after a McQueen challenge.
Mick Channon stepped forward to score from the spot but it was too little too late for disappointing England.
The referee's whistle was a signal for thousands of joyous Scottish fans to spill onto the Wembley turf, some clambering onto the frames of the goals where the crossbars broke under the weight of celebrating supporters.
1878: Scotland 7-2 England (original Hampden Park)
Six years after the world's first ever international game featuring these two had ended 0-0 at West of Scotland Cricket Club in Partick, the visitors were hammered out of sight.
The Sassenach slaughter featured the first ever hat-trick in international football scored by John McDougall. Or did it?
A Times report from the day credits Scotland's fourth goal to Thomas Highet but the record books show it was McDougall's second as Scotland ran riot at the original Hampden Park – which today is host to Hampden lawn bowling club.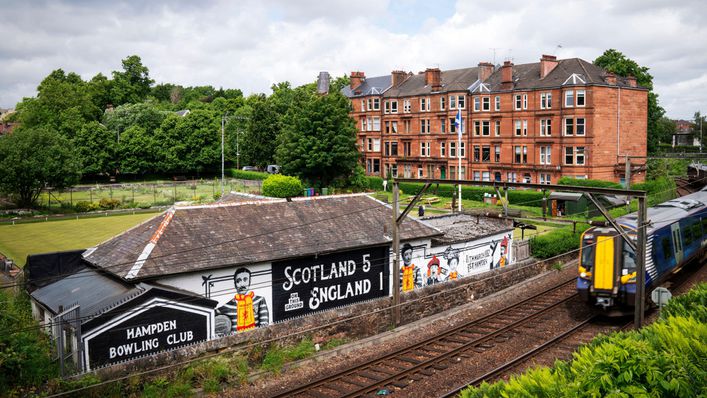 The hosts coped with the boggy and blustery conditions far better and were 4-0 up by half-time.
As The Times reported: "The Scotch were successful in the toss and chose to play at first with the wind, which blew rather strongly, at their backs.
"With this powerful ally they soon pushed the warfare into the enemy's territory."
A minute into the second half McDougall completed his hat-trick for 5-0 and the Scots had added a sixth before England managed to salvage a goal.
Henry 'Harry' McNeil, one of five Queens Park players in dark blue, grabbed his second and Scotland's seventh before another ultimately meaningless reply from the well beaten visitors.
1928: England 1-5 Scotland
The original Wembley Wizards inflicted England's first ever defeat at the Empire Stadium, five years after it opened.
It was not expected to be a game for the purists as the match effectively decided the wooden spoon in the old British International Championship.
Leading up to football's oldest international showdown Scotland fans had been angered by the inclusion of eight players from the English Football League being named in the starting line-up.
Among that XI was Newcastle forward Hughie Gallacher who hadn't kicked a match ball for two months after serving a suspension for pushing a referee in a changing-room bath.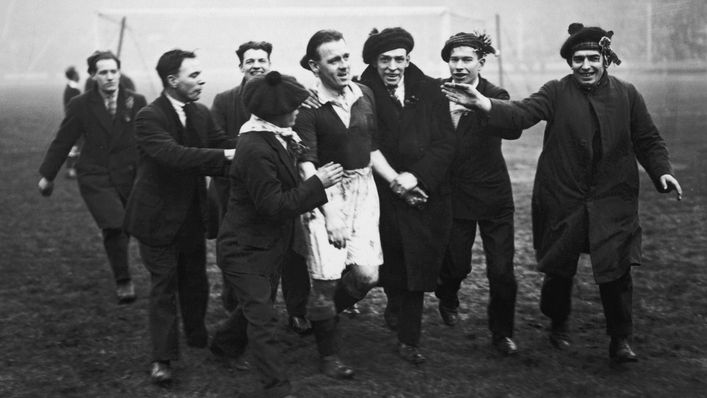 Before kick-off a lot was also made of the lack of height among the Scotland team with none of their five forwards standing over 5ft 7in, but in muddy conditions it was nimble feet and close control that mattered.
While England's normally unstoppable centre forward Dixie Dean got short change from Scotland centre-half Tom Bradshaw, Huddersfield's Alex Jackson ran his markers ragged, helping himself to a hat-trick.
Alex James of Preston also chipped in with a brace to shatter England's pride in the shadow of the twin towers.
Scotland captain Jimmy McMullen was cheered off the pitch and later explained how England had got the tactics all wrong.
He said: "The Saxon wing-halves paid more attention to the wingers than the inside forwards and therefore the latter were given a lot of space.
"It is a common thing in England to let wing-halves and not full-backs mark the wingers.
"It doesn't pay and I don't know why they pursue it."
1967: England 2-3 Scotland (Wembley)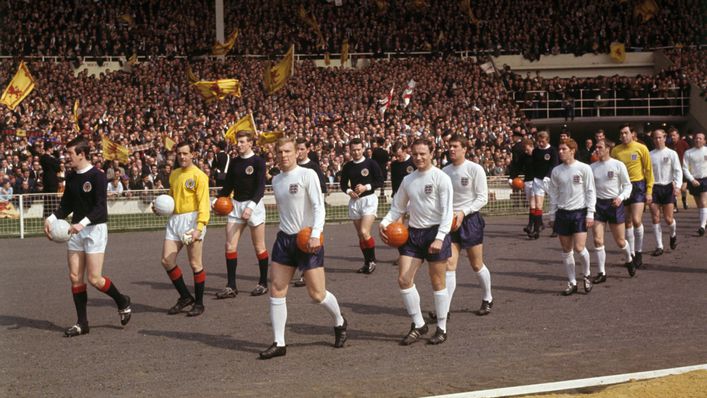 World Cup winners England were unbeaten in 19 games as they strolled out onto the Wembley turf led by Bobby Moore.
Two hours later Scotland — inspired by a ball-juggling Jim Baxter — were declaring themselves unofficial world champions having humiliated the hosts with a 3-2 win.
The close scoreline was misleading as the Scots dominated from start to finish.
As Baxter recalled in his memoir 'Baxter: The Party's Over': "We wanted the Scottish punters to laugh at the English as well as to enthuse over victory. Which is exactly what happened."
England were hampered by defender Jack Charlton breaking a toe in the early stages and in the days before substitutes he had to battle on as a makeshift forward.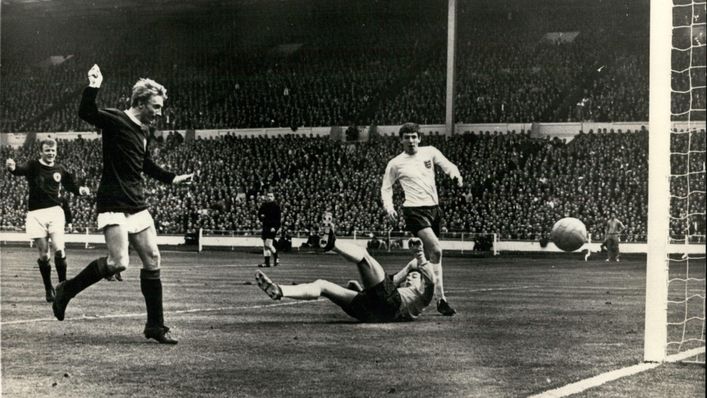 Denis Law set the game alight, pouncing on a rebound for the opener just before the half-hour mark.
A Bobby Lennox drive doubled the lead on 79 minutes before a limping Charlton pulled one back for England with just six minutes remaining.
Jim McCalliog fired Scotland 3-1 ahead on his international debut, prompting chants of "Easy, easy" from the Scottish contingent.
Geoff Hurst's last-minute header made the outcome appear more respectable to anybody who hadn't actually watched the game.
Baxter's 'keepy-uppy' tricks at Wembley became a thing of Scottish folklore but striker Law remembers not being so impressed with his talismanic team-mate.
Law said: "Jim ran the show, he was unbelievable.
"But I was a bit annoyed as he was keeping the ball up while I wanted us to get some more goals and give them a right battering."
Tags