Bento confirms South Korea exit after World Cup elimination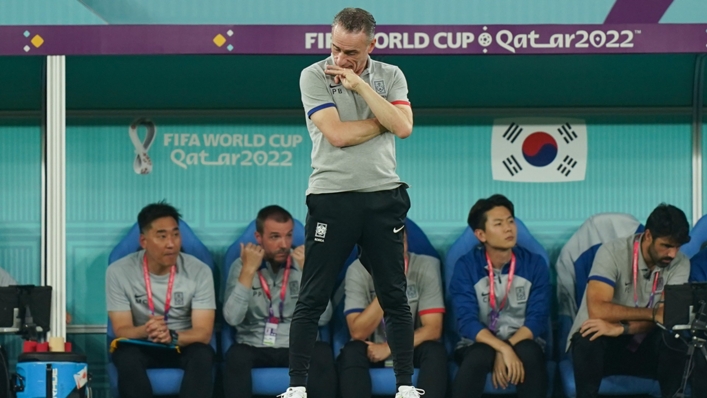 Paulo Bento confirmed he will not renew his contract with South Korea after their World Cup exit by defeat to Brazil on Monday.
Vinicius Junior, Neymar, Richarlison and Lucas Paqueta were all on target as the pre-tournament favourites raced into a four-goal lead inside 36 minutes at Stadium 974.
A long-range Paik Seung-ho strike in the second half proved a mere consolation for South Korea, whose journey in Qatar came to an abrupt end.
Bento, appointed in 2018 as Shin Tae-yong's successor, confirmed the Brazil defeat will be his last with the Taegeuk Warriors, after agreeing to stay in charge until the end of their World Cup campaign.
"From now, we just have to think of the future, and it will not be with the national team for South Korea," he said. "I rest, and then I see what happens after.
"I just announced to the players and president of the confederation this decision I made in September. This was a decision set in stone, and today I confirmed it.
"I have to thank them for everything, they gave their best. I have been proud to be their manager."
South Korea were appearing in their first knockout-stage game in the competition since 2010, though failed to deliver against Tite's host of global stars.
They will still head home with great memories in the Middle East after snatching an unlikely Group H qualification with Hwang Hee-chan's injury-time strike against Portugal edging out Uruguay for second place.
"At this time, it is not easy to give a summary of everything in the World Cup, and especially due to it not ending yet," Bento added.
"I can only tell you about our participation, which ended today, I believe it ended in a fair manner. We have to congratulate Brazil because they are better than us.
"Our strategy was to control the match and not let the game run at a high pace, but because of what we had available in terms of preparation, we weren't able to do that and that made it difficult.
"What we did do in the World Cup was something to make us very proud - as well as all the process to get here for the last four years - I believe what we've done in the group stage was very good.
"For the third time in the history of [South] Korean football, we got to the round of 16. I believe in the group stage, we could have managed more points because against Ghana, we should've and could've won.
"That would've been well-deserved, but our participation makes us proud and makes me satisfied."
Tags