Ancelotti convinced of second-leg turnaround for Madrid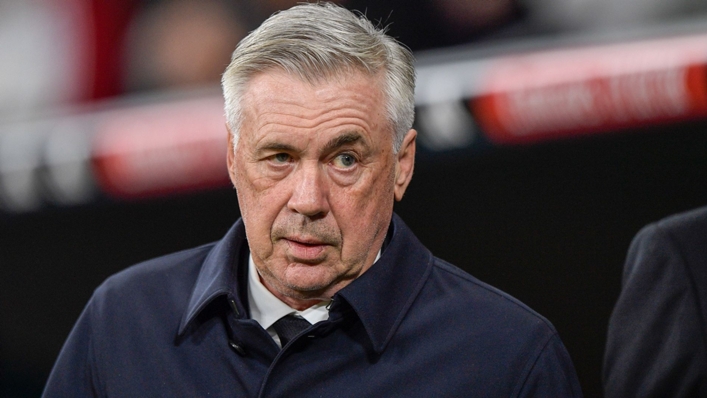 Carlo Ancelotti is convinced Real Madrid have the firepower to overturn their 1-0 Copa del Rey semi-final first-leg defeat to a Barcelona side he suggests did not want to play.
Barca claimed a smash-and-grab victory at the Santiago Bernabeu on Thursday to take a slender advantage into next month's return game at Camp Nou.
The decisive goal came in the 26th minute when Franck Kessie's shot was saved by Thibaut Courtois before going in off Eder Militao.
Madrid were largely dominant otherwise, with Barca having just 35.3 per cent of the possession – that is their smallest share of the ball in a single match since Opta records began (2013-14 season).
Similarly, it was only the third time since the start of last year that Barca have recorded less than 50 per cent possession in a match.
Ancelotti was unimpressed by Barca's performance and remains confident Madrid will reach the final, despite Los Blancos failing to get a single shot on target for only the third time in a decade.
"The team played well," he told reporters. "Barcelona played like they didn't want to play.
"We haven't been good in the last third. Defeat hurts, but if we do the same in the second leg, we have a chance to progress.
"We played the game we have to play: pressing, playing with intensity. We lacked a goal, but they did nothing to score. They were lucky with a rebound. We have 90 minutes [to turn it around]."
He added: "We've failed, but we did not deserve to lose. But in 90 minutes we can score a goal in Barcelona."
Despite the obvious frustration in his voice, Ancelotti was undoubtedly impressed with how Madrid managed to control the majority of the game, forcing Barca to play mostly on the edge of their own box.
"It's a very bad result, undeserved, but it was a game well done on our part, with intensity and commitment.
"We didn't let Barca play the way they want. They had a very low block, not because they wanted to, but because we made them do it.
"It was difficult to have opportunities, we tried from outside the box, but they have great defenders and they gave us problems in the crosses.
"It was difficult to find spaces. They were very closed off. I have nothing to reproach. I am very happy and I am very excited to do the same in the second leg.
"They have an advantage, but we have all the confidence in the world to be able [to turn it around]."
The second leg is at Camp Nou on April 5.
Tags