Turner believes Balogun would be 'great addition' for USMNT
Joshua Challies
Stats Perform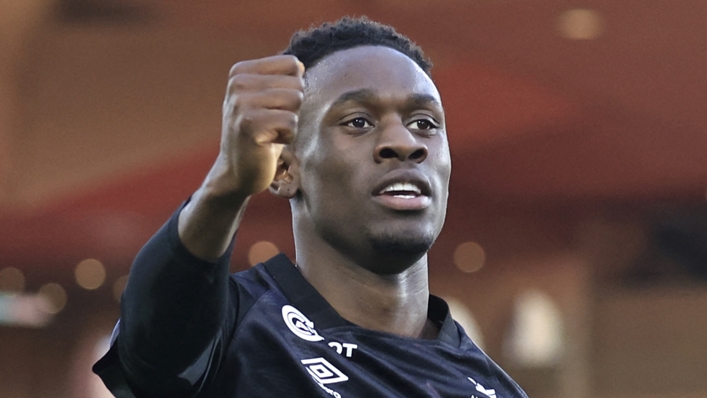 Folarin Balogun would be a "great addition" to the United States team, but Arsenal's Matt Turner only wants the striker to make the switch if it "comes from the heart".
Arsenal forward Balogun has excelled on loan with Reims this season, scoring 17 goals in 27 Ligue 1 appearances – behind only Jonathan David and Kylian Mbappe (both 19).
The 21-year-old's excellent form has prompted talk of a tussle for his international allegiance, with the New York-born star eligible to represent England, the United States and Nigeria.
Balogun has been a mainstay in the England Under-21 set-up, but he withdrew from the squad for this month's internationals due to injury.
That development has led to fresh hope Balogun will pledge himself to the USMNT, and Turner confirmed he had spoken to his Gunners team-mate on the matter.
"I spoke to Flo. We obviously had most of our preseason together, and I knew going into it he had some roots in the USA," the goalkeeper said on Wednesday.
"So, he and I developed a relationship pretty quickly. That's pretty much the extent of it. We check in on each other here and there.
"He'd be a great addition to our national team. I think he's done really well, obviously, for his club on loan, and we'll see.
"The decision has to come from the heart, because it's not necessarily an easy task to come and play in these CONCACAF games. It's a tough region at times.
"So, for us, we'd be really grateful to have him, but his heart needs to be in it."
Earlier in the week, Balogun told Sky Sports he was yet to decide on his future but has aspirations of playing at the highest level.
"My international future is not decided yet in terms of who I'll play for," he said. "But of course I want to play international football at the highest level, in the World Cups, and I want to compete at the highest level.
"I want to put myself in positions where I'm performing in front of millions of people."
Tags