Australian Open: Djokovic hungry for more after 22nd major triumph
Peter Thompson
Stats Perform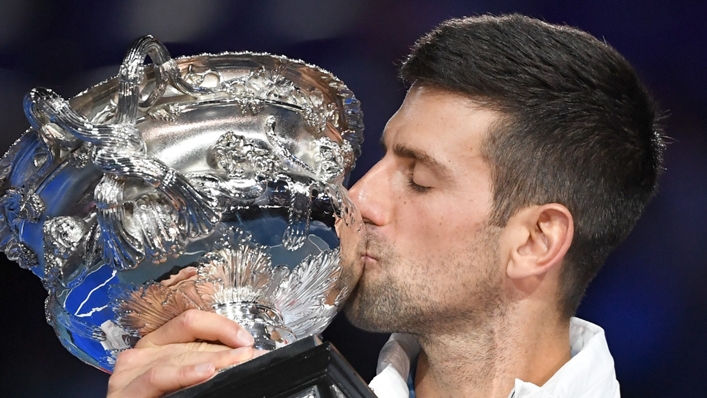 Novak Djokovic "emotionally collapsed" after winning his 10th Australian Open title, before declaring: "I don't want to stop here."
The irrepressible Djokovic beat Stefanos Tsitsipas 6-3 7-6 7-6 on Rod Laver Arena to match Rafael Nadal's record tally of 22 men's singles Grand Slam triumphs.
Djokovic's victory on Sunday also puts him back at the top of the world rankings, a year after he was unable to defend his title at Melbourne Park after being deported due to his vaccination status.
The 35-year-old from Serbia was also prevented from playing in the US Open last September because of his refusal to take a coronavirus vaccine, but he has made a dream start to 2023.
He was crowned champion of Adelaide International 1 before extending his Australian Open winning streak to 28 matches, with his last defeat in the first major of the year coming at the hands of Hyeon Chung in the fourth round back in 2018.
While in Melbourne this time, Djokovic had to contend with questions about his father, Srdjan, posing with a group of men waving Russian flags that were banned from the grounds during the tournament.
His father did not attend his son's semi-final win over Tommy Paul or the final but the legendary Belgrade native was able to embrace mother Dijana after defeating Tsitsipas.
Djokovic, who was struggling with a hamstring injury in the first week of the tournament, was in floods of tears and dropped to the floor in his box after being mobbed by his team following what he described as "the biggest victory of my life" in his on-court interview.
He said: "When I went into my box, I just think I emotionally collapsed there and teared up with especially my mother and my brother, when I gave them a hug, because up to that moment I was not allowing myself to be distracted with things off the court or whatever was happening in dealing with an injury.
"Things happening off the court, as well, that could easily have been a big disturbance to my focus, to my game.
"It required an enormous mental energy really to stay present, to stay focused, to take things day by day, and really see how far I can go.
"If I turn back the time two-and-a-half weeks ago, I wasn't really liking my chance in this tournament with the way I felt with my leg. Then it was just a matter of survival of every single match, trying to take it to the next round.
"The good thing about the grand slam here is that you have a day between the matches, so it allowed me to have more time than normally on some other tournaments to recover, to try to do all the treatments in order to get myself in somewhat of a good state and condition to play and eventually win.
"From fourth round onwards, I feel the leg was not bothering me as much. I felt my movement was much better.
"I played some of my best tennis in the Australian Open. The fourth round, quarter-final, semi-finals, just really comfortable on the court, hitting the ball great.
"I knew that against Stefanos, it's going to be different match than what I had throughout the entire tournament."
Djokovic added: "It was a huge relief and release of the emotions in the end. Just difficult to find any additional words really. It's been a long journey, but a very special one."
He will head to the French Open in May eyeing major No23 and is eager to better the great Margaret Court's haul of 24.
"Of course I am motivated to win as many slams as possible," Djokovic said. "At this stage of my career, these trophies are the biggest motivational factor of why I still compete. That's the case without a doubt.
"I never really liked comparing myself to others, but of course it's a privilege to be part of the discussion as one of the greatest players of all time. If people see me this way, of course it's very flattering because I know that I give as much effort and energy into trying to win slams as anybody else.
"I still have lots of motivation. Let's see how far it takes me. I really don't want to stop here. I don't have intention to stop here. I feel great about my tennis. I know that when I'm feeling good physically, mentally present, I have a chance to win any slam against anybody.
"I like my chances going forward. But, again, nothing is given or nothing is for granted. Of course, I have awareness there's a lot of players that want this trophy or want the number one position in the world.
"I don't know how many more years I'm going to play or how many more slams I'm going to play. It depends on various things. It doesn't depend only on my body.
"It's extremely important for me to have the support and love from the close ones, and ability to go and play and keep the balance with the private life, but at the same time have the mental clarity or aspirations to really strive to chase these trophies.
"Physically I can keep myself fit. Of course, 35 is not 25, even though I want to believe it is. But I still feel there is time ahead of me. Let's see how far I go."
Tags