Australian Open: Djokovic revels in 'biggest victory of my life' after landing 10th title
Daniel Lewis
Stats Perform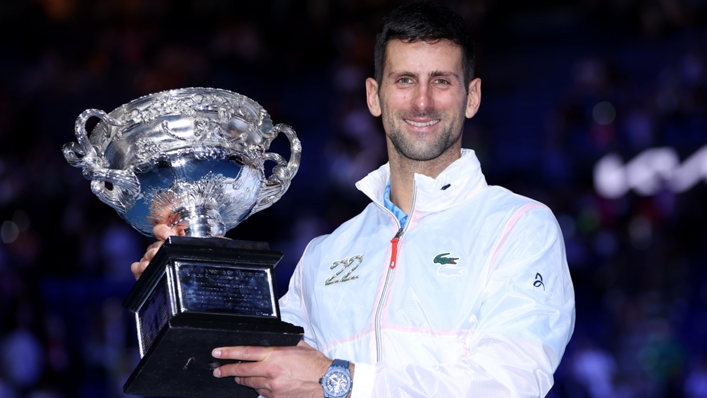 Novak Djokovic described his latest Australian Open triumph as "probably the biggest victory of my life" as he put last year's adversity behind him to win the title for a 10th time.
The Serbian defeated Stefanos Tsitsipas 6-3 7-6 (7-4) 7-6 (7-5) at Rod Laver Arena on Sunday to draw level with Rafael Nadal on 22 grand slam crowns – a joint-record for male players.
Djokovic dropped just one set across his seven matches in a dominant display down under, coming a year on from being deported from the country ahead of the 2022 edition.
He was denied the opportunity to defend his title following a row over his COVID-19 vaccination status, which also saw him banned from entering the country until 2025.
However, he had his visa ban overturned in November and made up for lost time, with his straight-sets win against Tsitsipas also seeing him regain the world number one spot.
Djokovic broke down in tears after sealing victory in a little under three hours and then gave an emotional speech in his on-court interview.
"This has been one of the most challenging tournaments I have ever played in my life considering the circumstances, not playing last year, coming back this year," he said.
"I want to thank all the people who made me feel welcome, made me feel comfortable to be in Melbourne and to be in Australia.
"There is a reason why I have played my best tennis throughout my career in this arena. I try to pinch myself and really live through these moments.
"It's a long journey. Only the team and the family knows what we have been through in the last four or five weeks.
"I would say this is probably the biggest victory of my life, considering those circumstances. Thank you so much – and hopefully see you next year."
Djokovic landed his first Australian Open title 15 years ago and has now won 28 matches in a row at his favourite tournament.
At 35 years, he is the third-oldest male in the Open Era to win the Australian Open singles title after Ken Rosewall and Roger Federer, another of his long-time rivals.
Tsitsipas labelled his opponent as the greatest of all time after the match, and Djokovic also had some kind words to share as he backed the Greek to challenge in more majors.
"Thanks so much for being so kind and respectful," Djokovic said. "On the court we are fierce competitors, but that doesn't mean we shouldn't respect each other.
"I congratulate you on an amazing tournament. Tough luck tonight. This will not be your last grand slam final, you have a lot of time.
"You are one of the most professional players I know on the tour, and one of the most interesting."
Djokovic, whose 93 ATP titles is the fourth most of any male in the Open Era, added: "I'd like to finish off by commenting something on Greece and Serbia.
"We are two relatively small countries that don't really have a tennis tradition. We didn't really have players to look up to.
"I think the message for any young tennis player around the world watching this now, dreaming to be where we are now, dream big. Anything is possible.
"Don't let anyone take away the dream. It doesn't matter where you're coming from. I think the more disadvantaged a childhood you have, the stronger you become.
"We are the proof of that. Don't let anybody take that dream away from you. Water it like you would water the flowers.
"Even if you can only find one person in the world that supports you, dream big and you can make it."
Tags