Australia planning to allow players to 'express themselves' at World Cup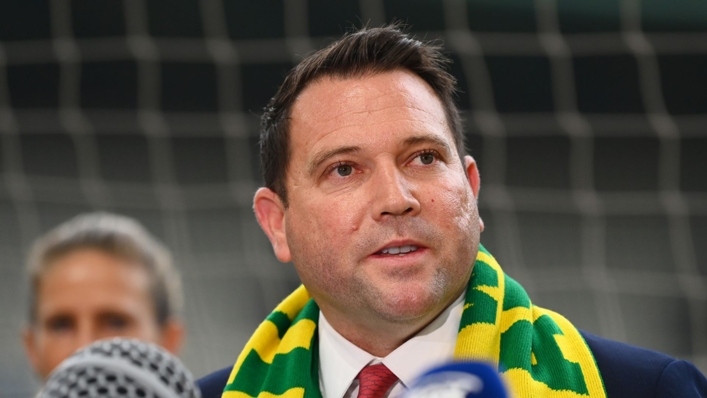 Players at the Women's World Cup should be allowed to show support for social causes, believes Football Australia chief executive James Johnson.
Australia and New Zealand are set to host this year's finals following the men's tournament in Qatar in 2022.
The build-up to that event was dominated by discussion of human rights issues relating to the host nation, and players were banned from wearing a OneLove armband supporting LGBTQ+ rights.
Football Australia is in talks with FIFA to avoid similar problems this time around, Johnson revealed, and expects players to be vocal in support of various causes.
"What you'll see from the Matildas is not just great performances on the pitch, but they're going to make some points off it as well," he told Sky Sports.
"We are working with FIFA [and] we'll make sure we bake into the competition regulations some exceptions to the rules, so the players can express themselves in a free way.
"Once that's agreed, the players can express themselves on certain issues, especially LGBTQI issues, which are on the tip of the Matildas' tongue.
"Then they can get back to football and do their work on the pitch.
"It could be an armband, it could be an indigenous flag. We haven't got into the specifics. We're optimistic we'll land in a place we're happy with and the players are happy with as well."
Johnson's comments come after talks between FIFA and Visit Saudi regarding sponsorship of the finals prompted criticism from high-profile players.
"We weren't happy with how it played out," Johnson added. "We weren't happy with what we thought the outcome was going to be either.
"That's not just us [Football Australia], it's the government, and we also spoke to the players. In our view, it didn't align with the vision of the tournament.
"We took a principled stand. It wasn't popular with everyone, but that's what leaders have to do sometimes. We've spent a lot of time listening to our players to try to understand what's important to them.
"The Matildas support a lot of social issues, and we need to back our players. When we have to push issues with FIFA, we do that for our players."
Tags