Aubameyang backed to break Chelsea 'curse' and show Arsenal what they are missing
John Skilbeck
Stats Perform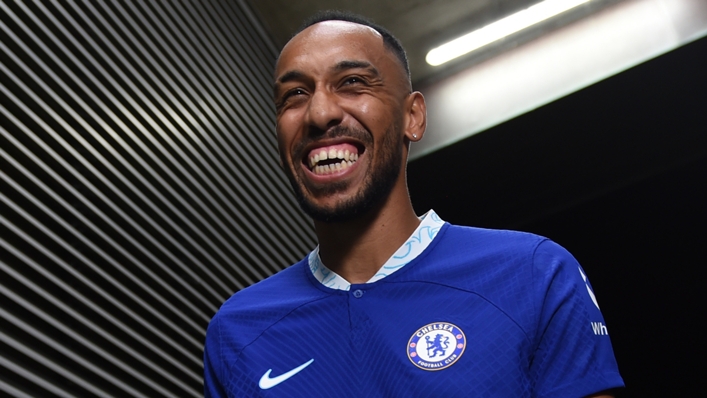 Pierre-Emerick Aubameyang can smash the "curse" of the Chelsea number nine shirt and become a Blues favourite, according to boss Thomas Tuchel.
Former Arsenal captain Aubameyang completed a return to the Premier League on Thursday when he left Barcelona in a deal worth £10.3million (€12m), signing a two-year deal.
As well as winning over Chelsea fans who remember him as a recent opponent from a rival London side, Aubameyang also faces the task of living up to his shirt number.
A string of well-known strikers have struggled to impress as Chelsea's number nine, including Alvaro Morata, Gonzalo Higuain, Radamel Falcao and more recently Romelu Lukaku.
Head coach Tuchel dismissed concerns over Aubameyang's attitude, after a four-year spell at Arsenal came to an acrimonious end in February, insisting he knows the Gabonese striker well enough from their time together at Borussia Dortmund for there to be no cause for worry.
"Auba is in my point of view always happy to fight for something and to accept the challenge," Tuchel said. "The more challenges he has, the better it is.
"If he wants to overcome the number nine curse or he wants to show someone in London that he's better than people think about him, the more the better, because he's up for that and he's happy.
"I know him as very focused and in general very open and a person with an open heart and happy to be on the pitch every day.
"This is what we wanted. He's a very positive influence on any group. He is up for any challenge and he's happy to be on the pitch and score goals."
Tuchel said Aubameyang was "ready to write his own history" at Stamford Bridge, explaining: "I imagine everybody's happy he chose the club in blue now instead of the club in red."
His portrayal of the former Gunner as an instinctive grafter might surprise some, but Tuchel hailed Aubameyang's pressing qualities and his work rate.
"That's what made him special in Dortmund, when he worked for me, and it's what made him captain of Arsenal, and he lifted some trophies there," Tuchel said.
"I think just to reduce him on his last half a year or half season [at Arsenal] where things became difficult ... I cannot judge it, but it's very rare in these situations where it's one person's problem.
"I'm not there to judge about anything, because it is none of my business. I can just tell you how I met Auba and how Auba was for me. At any club he scored and won titles. he has a winning mentality and he has the positivity to be a huge influence in that group."
Chelsea face West Ham in the Premier League on Saturday, but Aubameyang will play no part as he recovers from a jaw injury sustained when his home was raided by burglars on Sunday.
Chelsea have lost just one of their last 16 home league games against West Ham (W11 D4), going down 1-0 in November 2019, yet their overall home form is not the best at present, with just six wins against all opponents from their last 16 Premier League home matches (D8 L2)
West Ham manager David Moyes has won none of his 17 Premier League away games against Chelsea (D7 L10) and his team have a meagre two goals from five games this term.
Chelsea badly need a win after a midweek loss to Southampton, and Tuchel said: "We need to step up. If we don't get tough we will get punished all the way.
"This is not what we want. It is not what we are up to. It's proven that we can do it with this group so we need to find the right spirit and attitude throughout all the matches. This includes me, my staff and the team.
"From now on we will show a new face and we will have to show a new toughness."
Tags