Arteta sees role for Nketiah with Jesus but 'cannot promise anybody' minutes at Arsenal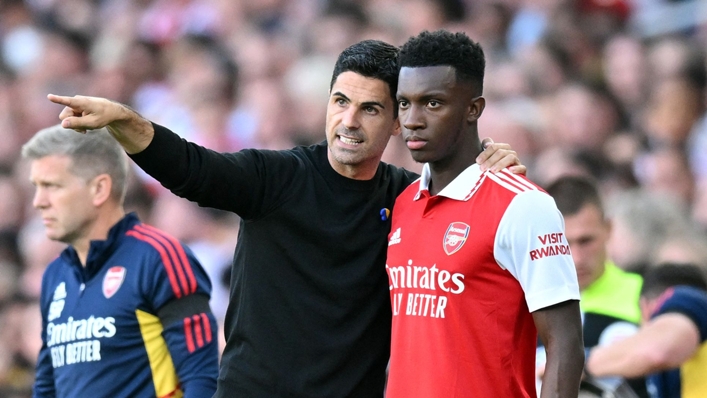 Mikel Arteta insisted Eddie Nketiah and Gabriel Jesus can play in the same Arsenal team but said he cannot make promises about anyone's first-team opportunities.
The 23-year-old Nketiah, who had been tipped to leave the Gunners last term amid frustration over a reduced role, ultimately signed a new deal after a strong finish to the 2021-22 campaign.
But the arrival of Jesus from Manchester City has pushed the striker back down the pecking order, keeping his chances at a premium amid the Brazilian's rich form.
Ahead of Thursday's Europa League clash with Bodo/Glimt, Arteta spoke of Nketiah's current status, and mulled whether both the Englishman and Jesus could combine, stressing he does not take his decisions lightly.
"I know with Eddie, I am sure he wants to play every single minute of every competition," Arteta said. "Gabi's been playing, and he's been phenomenal.
"I think they can play together. We'd have to change one or two things in the team structure. But he has participated in most of the games in the league, and he has played in Europe.
"I cannot promise anybody. What he gives us is his best, whether it is five minutes or 90 minutes."
Arteta also touched on the future of Reiss Nelson and William Saliba, declaring there is a place for the former with his contract set to expire while admitting "damage" in his relationship with the latter over his loan time away.
"A hundred percent," the Spaniard said on whether winger Nelson could earn a renewed deal. "That's why he's here, because we wanted to have that opportunity with him.
"It is down to him to show it on the pitch. He's out there showing it every day, how he's working. He is changing and improving. He's on the right track [but] now he needs to perform."
As for centre-back Saliba, Arteta said: "I was really impressed and surprised when I spoke to him."
Now 21, Saliba has had loans with his former club Saint-Etienne, plus Nice and Marseille, before being given his chance with Arsenal this season.
There has been frustration from Saliba over how long it has taken to start his Gunners career in earnest, after first signing in 2019, and Arteta said: "Obviously, the way the relationship has started, there was a bit of damage there.
"But he was so committed and focused to play for Arsenal, I think it took me a bit by surprise. How he talks about the club, and how much he wants to be here, I have no doubt that he wants to continue."
Tags