Andersson hails 'calmer' Forsberg after brace sends Sweden through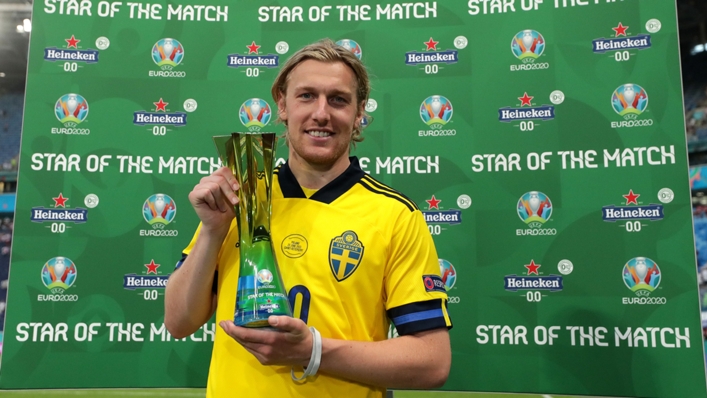 Janne Andersson hailed the new, 'calmer' Emil Forsberg after his goals fired Sweden into the knockout stages of Euro 2020.
The RB Leipzig midfielder scored twice as the Swedes saw off a late Poland fightback to claim a 3-2 victory that sent them through as Group E winners.
Four of Forsberg's 12 goals for his country have come in 2021, and his manager puts that down to a recent change in temperament.
Andersson told Euro2020.com: "He's a bit calmer as a person. He's said himself that he feels more harmonious, and he's been better on the pitch.
"He's always been good with the national team, and it's great he can be the decisive factor for us."
Sweden had not conceded a goal at Euro 2020 coming into Wednesday's game but were breached twice as a Robert Lewandowski-inspired Poland fought back.
However, while Andersson is keen to see his side quickly eliminate that porousness, he was pleased with their fluency going forward.
"I think opponents think we're difficult to play against, and that's how it should be," he added.
"Poland's first goal was a fantastic piece of individual skill. [Lewandowski is] a skilful player – probably the best striker in the world right now – and he scored twice.
"We're a little disappointed with that, but we scored three.
"In the second half, we defended a little too deep. We'll have to look at the game again, analyse it and see what we can do better.
"Overall, I can't say I'm unhappy – but there are things we can improve on."
Sweden now have six days to prepare for their last-16 tie against Ukraine - news that comes as music to Andersson's ears.
"It's always good to have more time to prepare," he continued.
"The most important thing is recovery, getting fluids on board and helping the body recover. On Saturday, we'll start to think about who the opponent is going to be and creating more energy for the game."
As for Poland, captain Lewandowski lamented poor fortune for his country's group-stage exit.
The Bayern Munich man hit the bar twice in quick succession in a goalless first half and felt that somewhat summed up their tournament.
"We have been unlucky at this tournament. We had many chances to score but did not convert enough of them," he said.
"And our rivals sometimes had half a chance and they scored. Me too — those two headers hit the crossbar.
"We are sad and disappointed. Maybe we were lacking quality somehow, but we gave all we had."
Tags