Ancelotti tells Real Madrid to attack Barcelona as pivotal Clasico awaits
John Skilbeck
Stats Perform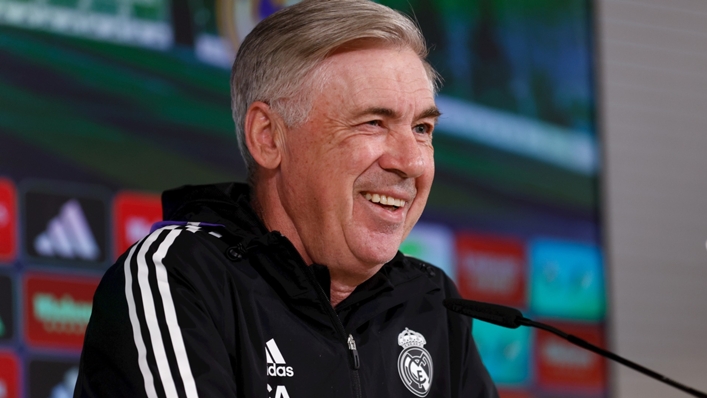 Carlo Ancelotti insisted Real Madrid have not contemplated defeat in Sunday's Clasico as they fight to keep LaLiga title hopes alive.
Defeat at Camp Nou would be a devastating blow to last season's champions and leave them 12 points adrift with 12 rounds of games remaining.
Head coach Ancelotti told his players to treat Barcelona "as a lion, not as a cat", predicting even he would be nervous about entering their den, but he pledged Madrid would go on the attack.
Italian boss Ancelotti has won three of his seven LaLiga meetings against Barcelona, losing the other four.
He can become the fifth Real Madrid coach to win four or more Clasicos in LaLiga, after Miguel Munoz (12), Francisco Bru (5), Luis Molowny (5) and Zinedine Zidane (4).
If he and Madrid fall short, many will see the title race as being effectively over. Ancelotti is not so sure, but that is because he has not allowed defeat to enter his mind.
"I don't know, we didn't think about that," he said. "We thought about winning. If we don't win, we'll think about it.
"We have to see Barca as a lion, not as a cat. If we see them as a cat, it seems like we are going to a party. We are going to play against a great team, and it's an important game.
"In these games there's always fear, of course, but that's normal. It's fear, nerves. For me, the two hours before kick-off are the worst."
Barcelona won 1-0 against Madrid at the start of March in the Copa del Rey. That success at the Santiago Bernabeu came despite the visitors having just 35.2 per cent of possession, and a second leg of that semi-final is still to come at Camp Nou on April 5.
In LaLiga alone, Barcelona have had nine 1-0 wins this season, the most they have ever had in a single league campaign. Once they get a lead, they dig in their claws and fight to protect their prey.
This is business time in Spain, and Madrid and Barcelona are used to meeting each other at this stage of a season, as the destination of the trophies is scrapped over.
Should Madrid win on Sunday, the deficit would be down to six points and seeds of doubt might be planted into Barcelona minds.
Madrid's best chance of a trophy still probably lies in the competition where they are the undoubted lions and 14-times winners: the Champions League. A last-eight clash with Chelsea awaits them in that competition.
"The data shows we have a disadvantage in the Copa and in LaLiga, and where we don't have it is in the Champions League," Ancelotti said. "Anything can happen. We want to reduce the disadvantage in LaLiga."
For the Clasico, Ancelotti has told his players to "enjoy the moment, be the protagonists", saying they can win the defensive and attacking battles.
"Tomorrow we will play offensively, yes," he added. "Offensively, but without risks.
"We have the plan, the two teams know each other very well. We have no secrets."
Tags