Alonso hails 'super' Kimmich as Leverkusen boss relishes Bayern reunion
John Skilbeck
Stats Perform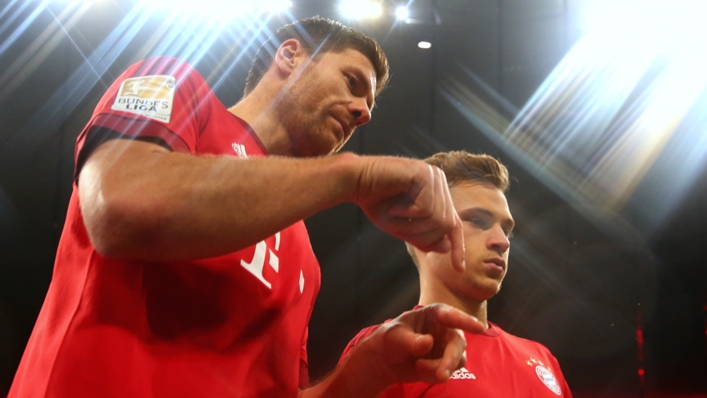 Xabi Alonso saluted the development of former team-mate Joshua Kimmich as the Bayer Leverkusen boss prepares for a reunion with Bundesliga leaders Bayern Munich on Sunday.
Almost six years have passed since Alonso retired as a player, bringing an illustrious on-field career to a close at Bayern, where he won three consecutive league titles.
Kimmich was making his way in the game during Alonso's three-season spell at the club, arriving from Stuttgart and becoming increasingly important to Bayern but still having plenty to improve in his game.
Now 28, Kimmich has matured into one of Europe's most complete midfielders, which is what Alonso expected he might become.
Asked whether he saw similarities between himself and Kimmich, Alonso said: "In terms of position, yes. When I saw Joshua for the first time, I knew he had a great future just based on his style of play, his personality and his character.
"He has developed really well. His passes are special, the way he distributes the ball as well as his vision on the pitch. I like the way he plays. He's a super player in the way he presents himself."
There have been few playmakers as complete as Alonso in the past 20 years. Kimmich is not far off, and the Germany international has time in which to rival the Spaniard's trophy haul, which includes two Champions Leagues, two European Championships and a World Cup.
On Sunday, Alonso's Leverkusen will confront a Bayern side that should feature Kimmich. After a slow start under predecessor Gerardo Seoane, Leverkusen have shown huge improvement under Alonso, who is almost six months into his first top-flight coaching job.
Thomas Muller, Kingsley Coman and Kimmich were team-mates of Alonso, but the Leverkusen boss, a former Real Madrid and Liverpool star, does not see any obvious advantage from their past acquaintance.
"I do know them, but that doesn't make it easier," Alonso said, quoted on his club's website. "Our aim is to stop their players and make the game as difficult as possible for our opponents."
He will offer a few pointers, all the same.
"Yes, of course I can do that," Alonso said, "but it's always easier to say these things than to do them."
Tags