Allegri: 'Divine' Dybala must not try to emulate Messi
Peter Thompson
Stats Perform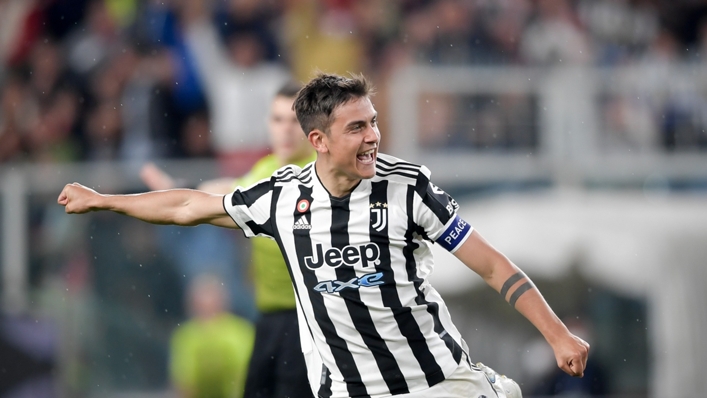 Massimiliano Allegri says the "divine" Paulo Dybala must go back to "being himself" rather than trying to emulate Lionel Messi.
Dybala has decided to leave Juventus when his contract expires at the end of next month and Serie A rivals Inter Milan want to sign him on a free transfer.
The Argentina forward has also been linked with several Premier League sides as he prepares to embrace a new challenge following seven years with Juve.
Bianconeri head coach Allegri believes Dybala's next club will only get the best out of him if he is not trying to emulate his legendary compatriot Messi.
Allegri told DAZN: "He has to go back to being himself, there was a moment when he got carried away by the fact that he was the new Messi.
"A player cannot emulate or think he is like another. He still has a lot to give because he has extraordinary technical qualities, he plays in a divine way."
Captain Giorgio Chiellini is another player whose time in Turin has come to an end.
Allegri says there is no shortage of leaders to step up in the absence of the long-serving centre-back.
He said: "For the future we already have two leaders, [Matthijs] De Ligt and [Manuel] Locatelli.
"Manuel was an excellent signing and could be the future Juventus captain, he has the technical and moral characteristics to stay here for many years.
"This year Danilo was a pleasant surprise: when he speaks he is never banal and puts the team first. A true leader is silent, he must speak little and must always put the team in front.
"And if you do this, it is the team that recognises you as a leader."
Allegri also expects Dusan Vlahovic to become a figurehead for Juve following his big-money move from Fiorentina in January.
"Dusan can also be a leader in his own way. He is loyal, he always wants to win, he will become a charismatic leader on the pitch on a character level."
Vlahovic scored seven goals in 15 Serie A appearances for Juve following his switch from Florence.
Tags