Alcaraz ready to head into grand slam as top seed for the first time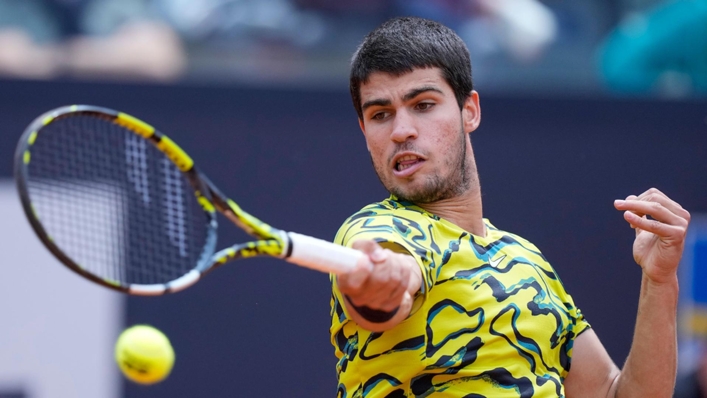 Carlos Alcaraz is ready to take top billing at a grand slam for the first time as he steps into Rafael Nadal's clay-court shoes.
With the 14-time champion choosing to sit out a chunk of the season ahead of an expected swansong next year, Spanish hopes at the French Open now rest on Alcaraz's broad shoulders.
The 20-year-old claimed his first grand slam title at the US Open last summer but was forced to sit out the Australian Open through injury so will be entering a major as a slam champion for the first time.
He is also the number one seed after surpassing Novak Djokovic following back-to-back titles in Barcelona and Madrid.
"For me it's still crazy to see myself as top seed in a grand slam," he said. "But at the same time it's great. It's something that I work for to be there. I'm really happy to be number one seed here at Roland Garros."
Alcaraz's swift rise and instant popularity has been a gift to the sport as it faces losing all of its long-time figureheads.
Nadal will miss the tournament for the first time since 2004, and his young compatriot said: "I felt bad when I heard that Rafa, he was not able to play here in Roland Garros and probably the rest of the year.
"As a fan of tennis, I always want to watch Rafa playing. I always want to watch the best players in the world playing the tournaments. And of course learning from them really close, here in the locker rooms, around the club, the tournament, for me is great.
"When I heard that it was tough to understand how it's going to be without Rafa this year. Hopefully we'll see him next year and he's 100 per cent."
Nadal cited the Paris Olympics, where the tennis will be held at Roland Garros, as a key target for next season, and Alcaraz welcomed the idea of the two men playing doubles together for Spain.
"It could be a dream playing doubles with him in the Olympics," he said. "So of course let's see. Let's see how he's doing and how he's going this year. Hopefully he's going great."
Alcaraz could potentially meet Djokovic in the semi-finals, with Daniil Medvedev having overtaken the Serbian to claim the second seeding by virtue of winning his first tour title on clay at the Italian Open last weekend.
Medvedev lost in the first round on his first four appearances at Roland Garros before reaching the quarter-finals in 2021 and the fourth round last year.
Asked if he now believes he can win the French Open, the Russian said: "I don't know. Because I also don't want to put too much pressure on myself. But what happened in Rome was amazing, especially beating a lot of good players.
"That's an amazing feeling, and I'm for sure maybe having more expectation than I usually had in Roland Garros. But I know that it's also tricky and you have to use this confidence, but not get cocky, because that's where the danger is.
"Sometimes you think, 'Oh, well, I played so well, now it's going to be easy'. Then the first round you have problems. You can get angry and maybe lose the match. So I have been in this situation many times, and I just want to try to play good tennis here in Roland Garros."