Alba wants Messi reunion as he outlines plans to see out Barca contract
John Skilbeck
Stats Perform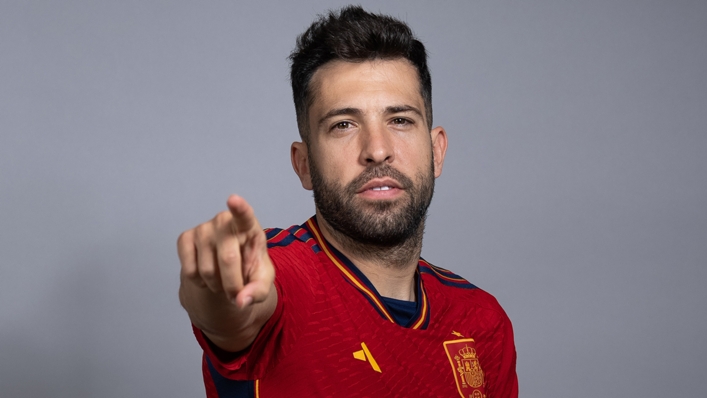 Jordi Alba is determined to stay at Barcelona until his contract expires in 2024 and hopes he could still be reunited with Lionel Messi at Camp Nou.
Spain left-back Alba has his focus on World Cup duties for the coming weeks, believing La Roja are well-placed to challenge in Qatar, with a first game against Costa Rica coming up on Wednesday.
At the end of the last transfer window, Alba was linked with a shock move to Italian giants Inter, but he said in an interview with Cadena Ser that "nobody told me anything" about that prospect.
"My intention is to stay until the end of my contract because I think I can help; when I don't, I'll be the first to go," said the 33-year-old, a five-time LaLiga winner with Barcelona.
"I've improved and people who know realise it. Many things were heard about my decision at the club, but I decided to stay. Nobody told me anything about Inter."
Alba said he helped out financially stricken Barcelona with his contract after last year's European Championship, at a time when the club were looking to cut costs.
"Whenever they asked me for help from the club, I gave it. Nobody can say otherwise," he said. "Whenever the club has asked me for anything, and whatever it is, I have helped. I am from Barcelona and I feel the colours."
He saw Messi, Barcelona's record scorer and greatest player, leave to join Paris Saint-Germain after a contract offer was withdrawn, with the Catalans unable to afford to keep him.
Almost 18 months later, Messi continues to be linked with a switch back to Barcelona.
"Of course I would like Leo Messi to return to Barca," said Alba, in a separate interview with Cope. "He is the player with whom I have had the best understanding on a field and for the club it was a great loss."
Such is the intense focus on Barcelona and Real Madrid, the Spain national team can feel like a poor relation at times. However, the success they enjoyed from 2008 to 2012, winning two European Championships and the World Cup, meant the group united the country, and Alba feels they could also have an outstanding 2022 World Cup.
He said of the team's coach, a former Barcelona boss who played for both Clasico rivals: "Luis Enrique has done very well.
"We hadn't met our expectations for a while and the European Championship [where Spain reached the semi-finals] was very good.
"People got hooked again and I think they will do it again with the World Cup. I hope and want to go far in this World Cup."
Tags