Zelem urges United fans to bring fear factor to Old Trafford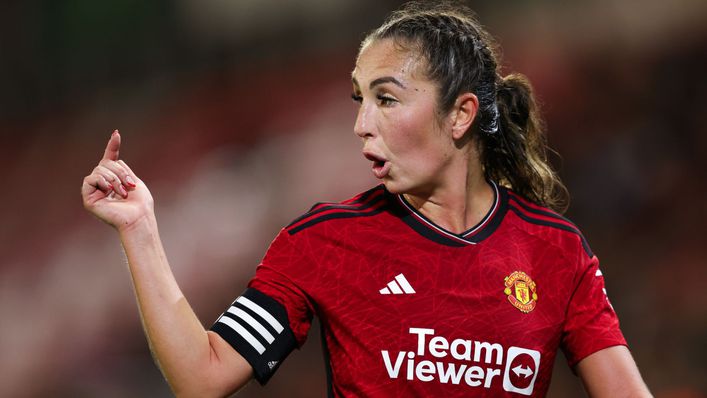 Katie Zelem has called on the Manchester United faithful to recreate the Leigh Sports Village fear factor at Old Trafford.
Zelem and her team-mates relish playing the bulk of their home games at the 12,000-capacity stadium, with their opponents treated to a noisy reception.
And as more than 40,000 fans prepare to descend on the Theatre of Dreams for Sunday's derby with rivals Manchester City, the United skipper is looking forward to being roared on as Marc Skinner's side chase a fourth Women's Super League victory of the season.
Speaking to the club's official website, she said: "There are a lot of people watching when you are playing in a big stadium but I think everyone is excited.
"We love playing at Old Trafford. We have had a lot of games there, and a lot of wins, so we want to make it have the same feeling as LSV.
"I think when people come to LSV they fear playing us and that's what we want to replicate at Old Trafford."
England midfielder Zelem, 27, is always proud to lead out the Red Devils but it is an even more memorable occasion at Old Trafford.
She added: "The Manchester derby is one of the fixtures you look for [at the start of the season].
"And for it to be at Old Trafford makes it even more special.
"Representing United as a childhood fan is a dream come true but to play at Old Trafford, to captain the girls and score there is just an indescribable feeling.
"It is something all the girls want to experience and to get a win at Old Trafford for us is the main thing.
"That's what we will be looking to do on Sunday. We are really excited for the occasion."
Unbeaten United head into Matchday 7 sitting third in the WSL table.
They trail leaders Chelsea by four points but are two ahead of sixth-placed City, while the 17 goals they have netted so far make them the division's second highest scorers.
Tags