Tottenham move has in-form Thomas smiling again
Phil Medlicott
Press Association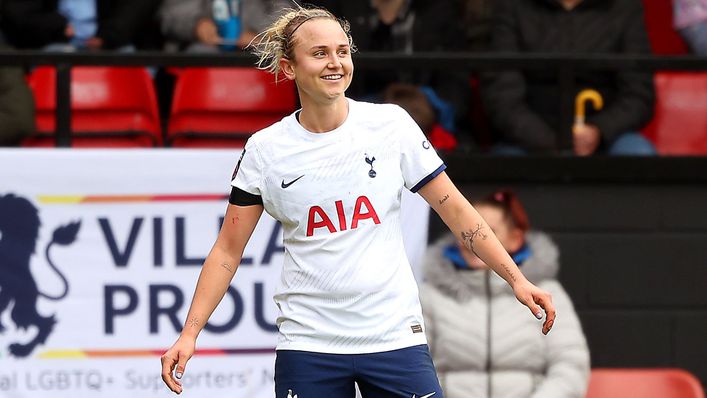 Martha Thomas says she has rediscovered her smile on the pitch following her summer switch to Tottenham.
The Scotland forward concluded a two-year stay with Manchester United after a 2022-23 season in which 19 of her 20 Women's Super League appearances came from the bench.
After moving to Robert Vilahamn's Spurs, Thomas — now starting at centre forward — netted six times in her new team's first four league games this term.
That hot streak saw her top the early Golden Boot standings and scoop the Barclays Player of the Month award for October in the process.
Asked if she had surprised herself at all with her form, the 27-year-old said: "No, I think I've always had the belief in myself — it's just having people around me that sort of believe in that as well.
"Personally, it was a really tough season for me [last term], off the pitch, on the pitch, mentally, physically. I felt quite drained.
"It was hard because the team was doing quite well, so I was happy for the girls around me. But when it came to the summer, I knew what the best decision for me would be.
"I was playing in a team sometimes not even in my actual position that I feel I'm best at. So it was definitely the right time for me to step away.
"I knew they weren't getting the best out of me and I wasn't getting the best out of myself there. It no longer felt like the right fit."
Ahead of a clash with fellow high-fliers Liverpool on Saturday lunchtime, Thomas admits that she couldn't be happier with how things are going in North London.
She added: "I wasn't enjoying my football. I needed just to enjoy it again, and I needed to find my smile again on the pitch.
"If I'm happy and playing in a team where I feel valued and they've got that belief, then I'm going to play my best and the goals are going to come.
"I think I've settled in really well here. I think the style Robert wants to play and the team we have complement me quite well."
Tags