Taylor renews support for Keating after Arsenal error
PA Sport staff
Press Association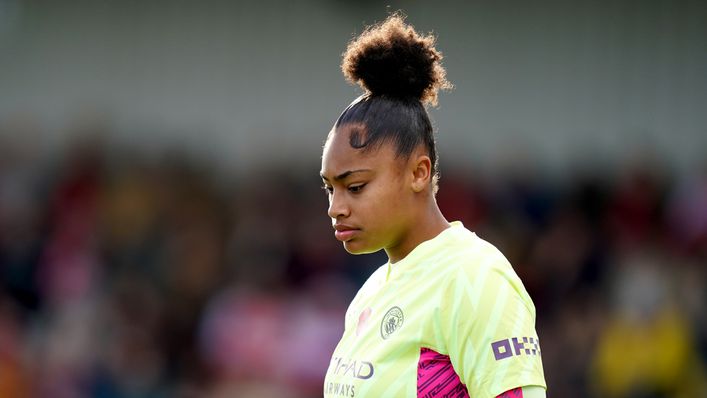 Manchester City boss Gareth Taylor has given further backing to Khiara Keating after her late mistake last Sunday at Arsenal.
The Gunners won 2-1 via an 87th-minute Stina Blackstenius finish that came about when Keating misjudged a ball from Katie McCabe.
Taylor had words of support post-match for the 19-year-old, who earlier in the game saved a Kim Little penalty awarded following her foul on Cloe Lacasse.
Keating last month received her first call-up to the England squad and speaking at a press conference ahead of Sunday's home clash with Brighton, Taylor said: "She's an amazing prospect, a very good goalkeeper. We see loads of mileage in terms of where she can go to with her game.
"We back her. These things happen, they will happen again unfortunately. But I think her reaction after the goal went in was amazing, for that remainder of the game.
"Then obviously once we know the game is done, that's when the emotion sets in a little bit. But she's been good this week."
Defender Alex Greenwood, sidelined after sustaining a head injury while playing for England last week, may miss out again, with Taylor saying: "It's quite tight for the weekend."
City, second in the Women's Super League table, are among four teams with 10 points, three behind leaders Chelsea, while ninth-placed Brighton have four after drawing 2-2 at home with Manchester United on Sunday.
That match included forward Elisabeth Terland scoring her fifth league goal of the season, and boss Melissa Phillips told a press conference: "She's a source of energy for the team because she plays with such intensity, she's such a competitor.
"She wants to really challenge herself to think even more critically about certain moments in the box where she can ask more questions as well. She's a huge contributor."
Tags