Starc admits he's not happy with World Cup performances
Mitchell Starc admits he has not been happy with the level of his performances at the Cricket World Cup ahead of Australia's semi-final against South Africa on Thursday.
The 33-year-old fast bowler has found the going tough in India, taking only 10 wickets at an average of 43.90 and with an economy rate of 6.55.
Starc has shone in previous World Cups, taking 22 wickets in the 2015 edition on his way to lifting the trophy with Australia and being named Player of the Tournament.
He then claimed 27 scalps in 2019, the most ever by a player in a single campaign.
Starc, who was rested for last Saturday's victory over Bangladesh, said: "I certainly haven't been at the level I would have liked or not the same level as the last two World Cups anyway, but now a chance at the pointy end to impact again.
"Certainly bowling first on particular wickets, the new ball with two fielders out I think has been almost the hardest time to bowl. You get a bit of an understanding of the wicket as the game goes on, that's not a sob story, that's the nature of one-day cricket.
"You've got two brand new balls on flat wickets, that's the nature of the World Cup if you look at the runs scored, or certainly centuries scored, as opposed to five wickets taken, the ratios are heavily skewed. Bowlers just have to find a way."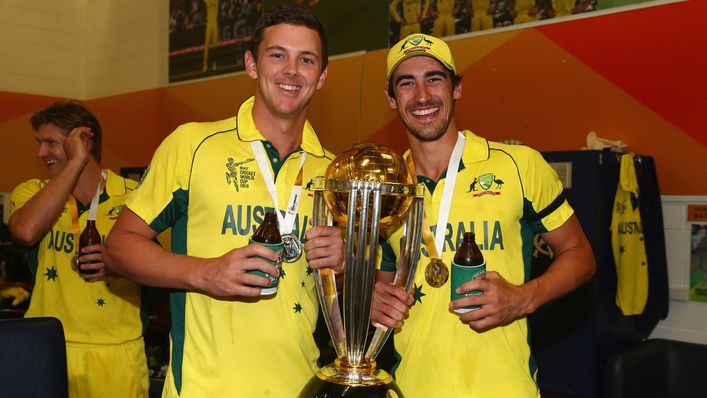 Starc is one of Australia's key multi-format players and stressed he wants continue playing one-day internationals, although is aware he may have to prioritise Test cricket in the near future.
He added: "I'll look to keep playing after this, but I don't doubt that I won't be making the next World Cup. I've no vision for that. Four years is a long time.
"I've always maintained that Test cricket is the top of the tree for me and I'll drop off the rest before I let go of Test cricket.
"For me [the semi-final] is just another one-day game for Australia, it's not the end of the road in one-day cricket as yet for me."