Hearn: The doors are open for future business with Queensberry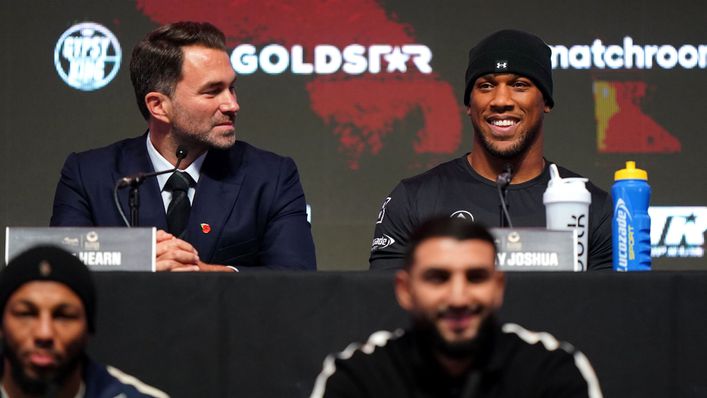 Eddie Hearn is relishing working with Frank Warren after meeting him for the first time earlier this week.
Britain's leading boxing promoters have often exchanged verbal blows in interviews and on social media over the years.
But they are working together on a bumper show featuring heavyweight stars Anthony Joshua and Deontay Wilder in Saudi Arabia on December 23.
And Matchroom Boxing supremo Hearn, 44, is pleased to have buried the hatchet with counterpart Warren, who heads up Queensberry Promotions.
Writing in his BBC Sport column, he said: "I met Frank for the first time at Wednesday's news conference.
"I've probably seen him a million times in interviews on my phone or screen but never actually met him.
"It was a very simple exchange. I said we should forget the rubbish, that this is a big opportunity for Queensberry, Matchroom, for boxing and our fighters, so let's not mess it up.
"He said pretty much the same to me.
"This could be a real turning point for British boxing. Matchroom and Queensberry will always be rivals, which is good for the fans because we will do our best to put on great shows, to be ahead of the competition.
"But I have always said when the opportunity is right for the fighter, egos will generally be put to one side.
"The doors are now certainly open for future business with Queensberry.
"I do not expect every word to come out of Warren's mouth to now be positive about me and probably vice versa. But this is an example of what can happen when we work together."
Two-time unified heavyweight champ Joshua, who is promoted by Hearn, will box for the third time this year when he locks horns with Otto Walin in Riyadh.
Former WBC title-holder Wilder and ex-WBO kingpin Joseph Parker are set to collide in the co-main event.
Hearn added: "We are building towards Joshua and Wilder but both need to win on December 23.
"Nothing has been signed but extensive talks continued into the night after the news conference.
"I am confident that before Riyadh in December we will be in a position to give the fans some good news. If it happens, it will definitely happen by spring next year."