Hayes slams 'embarrassing' officials after late Chelsea winner ruled out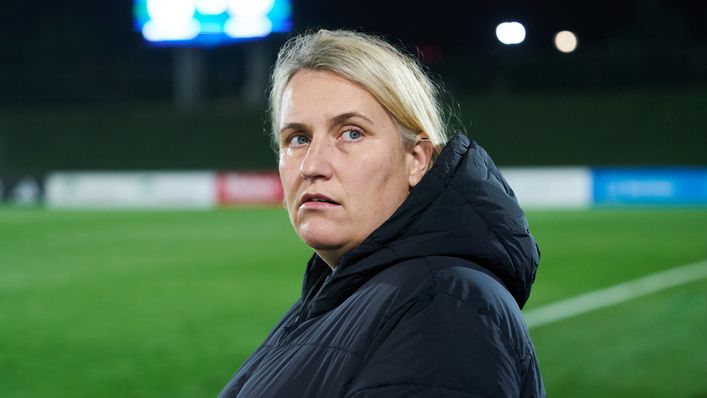 Emma Hayes slammed the "embarrassing" decision to rule out Niamh Charles' late goal for offside as Chelsea were forced to settle for a 2-2 draw in their opening Champions League game at Real Madrid.
The Blues were denied a dramatic winner when Charles' side-foot volley was chalked off, despite replays clearly showing her to be a few yards behind the Madrid backline.
Hayes, 47, fumed: "It is embarrassing. I had to check why it was disallowed.
"Was it Niamh? No. Was it Sam [Kerr] interfering with the goalkeeper? She was about seven yards away, nowhere near the keeper.
"I cannot understand the decision whatsoever."
Olga Carmona put Madrid ahead early on against the run of play before headers from Charles and Sam Kerr turned the game on its head.
But the hosts replied instantly, with Carmona tucking away a spot-kick after Jessie Fleming was adjudged to have brought down Athenea del Castillo.
Hayes also criticised that penalty call, claiming the foul was not in the penalty area.
She said: "I could see from the bench that the tackle was outside the box.
"I'm absolutely shocked that those managing the game couldn't see that.
"Of course, maybe Jessie shouldn't lunge in that area but it happens clearly outside the box.
"I think we've been robbed of what was a 3-1 game."
Before last night's game, it was confirmed that Hayes will take charge of US women's national team at the end of the season, bringing an end to a trophy-laden 11 years in West London.
Tags