Hayes praises hat-trick hero James after Chelsea thump Liverpool
PA Sport staff
Press Association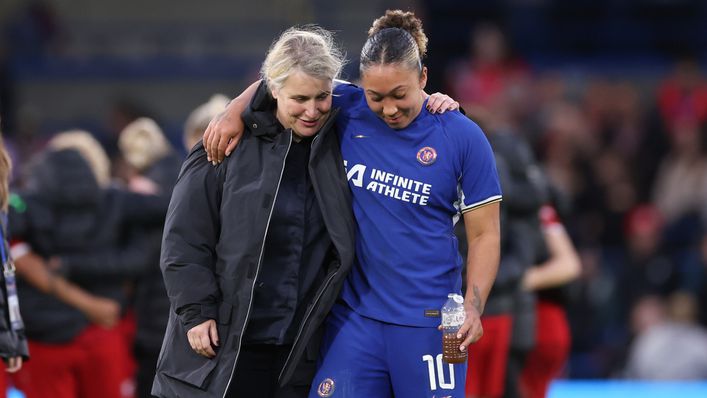 Emma Hayes was pleased with a "tremendous response" from Chelsea as Lauren James netted a hat-trick in an emphatic 5-1 Women's Super League victory over Liverpool at Stamford Bridge to extend their lead to six points.
James' stellar opening strike was swiftly cancelled out by Jess Carter's own goal, while Aggie Beever-Jones netted her fourth in four games before James' second-half brace completed her first Chelsea treble and Sjoeke Nusken added the gloss.
While noting their performance was not perfect — after a run of three games in seven days — the Blues manager said: "A perfect game would have been a clean sheet.
"But I think, considering none of us really slept Wednesday night and we've been in hotels since last weekend, I think it was a tremendous response from the whole squad.
"I really, really enjoyed the game. I enjoyed it for a lot of reasons."
Hayes hailed James and Beever-Jones following their goals, adding: "She's [Beever-Jones] so good in the air and she's got so much threat and predatory instinct. She's a goalscorer.
"What Lauren did out of possession was outstanding. The way she back pressed. The way she counter pressed. The way she shut off the pitch in the right moments.
"I think she was selfless in her work, I thought she was outstanding."
But Hayes slammed the authorities and broadcasters for not considering player welfare when rescheduling games for broadcast picks.
The Blues faced Everton away last Sunday and travelled to Real Madrid for Wednesday's Champions League match ahead of Saturday's 1.30pm kick-off — the BBC afternoon TV slot.
She added: "As much as you get accustomed to [the travelling], of course I'm going to hammer TV and the league today because, three games in six days, I feel like nobody really understands how hard that is to do.
"Don't you think it's a little bizarre that we're the only team that's played on Wednesday and we're the first team to play on Saturday, having played Sunday night away from home last week?
"I think it's something we should seriously look at."
Tags