Bittersweet for Buttler as England exit World Cup with Pakistan win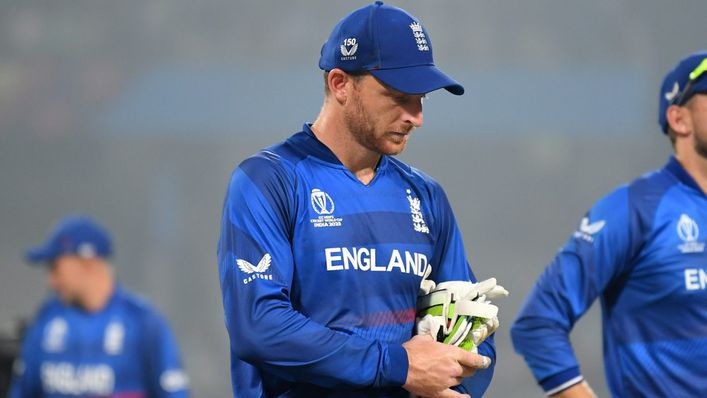 Jos Buttler was left with mixed emotions as his England side brought a dismal Cricket World Cup campaign to a close with a convincing 93-run victory over Pakistan.
The 2019 champions' fate was already sealed prior to today's clash having lost six of their opening seven matches.
However, half centuries from Jonny Bairstow, Joe Root and Ben Stokes helped put 337 runs on the board before a solid fielding performance saw Pakistan bowled out for 244 after 44.3 overs.
Skipper Buttler was determined to reflect on a positive end to a tournament he accepted has been a "disappointment".
He said: "It's nice to put in a good performance. It probably sinks in more right now. There's lots to reflect on.
"We got off to a really good start. The guys in the middle set it up brilliantly for the end. That's what we know we're capable of.
"We should have been able to cope without Ben [Stokes] when he was injured. Lots of us haven't performed in the way we wanted to. We should have been good enough to deal with that.
"The World Cup as a whole has been a disappointment. Wherever we go from here, today was a good day."
It was a final England appearance for bowler David Willey, who took 3-56 in a display that saw him awarded Player of the Match.
The 33-year-old was the only member of the squad not to be offered a central contract for the 2023-24 cycle last month, prompting his decision to step away from international cricket.
Willey said: "It's been a really disappointing tournament for us but personally it's been nice to perform and enjoy my last few games.
"To go out on 100 [one-day international] wickets is special to me. But we've got a phenomenal group of players, with masses of talent, and there's no doubt we've underperformed here.
"Some people may have frowned upon the timing [of the retirement] but there aren't many opportunities to walk away on your terms."
The result sees Pakistan bow out of the tournament on eight points, just two shy of New Zealand who sealed fourth place and will face hosts India in the first semi-final next Wednesday.