Mourinho: Zaniolo 'unfortunately' set to remain at Roma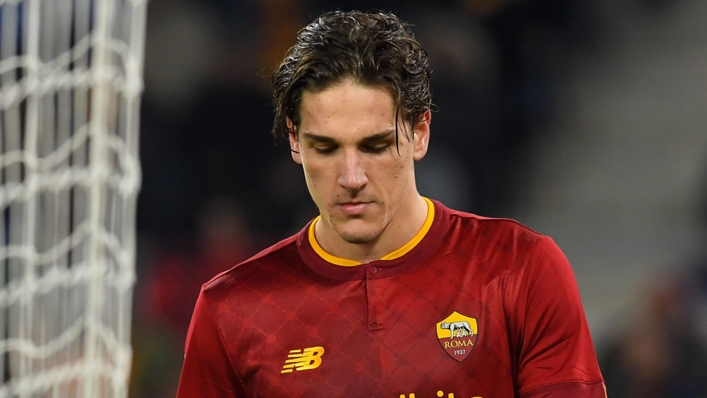 Roma coach Jose Mourinho suggested Nicolo Zaniolo is "unfortunately" likely to remain at the club after the winger reportedly failed to agree terms on a move to Bournemouth.
The Italy international had been strongly linked with several teams since the start of January, with Tottenham initially appearing to be his most likely destination.
But after Spurs signed Arnaut Danjuma on loan from Villarreal, their need for additional reinforcements out wide reduced, with Bournemouth subsequently emerging as frontrunners.
Mourinho confirmed last Sunday that Zaniolo asked to leave, and media reports this week indicated Roma and Bournemouth reached an agreement on a deal worth an initial £26.3million (€30m).
Zaniolo's seeming reluctance to join the Cherries has Mourinho now expecting the player to stay, though he did not hide his frustration regarding the player's hesitance despite being open about wanting out.
"Unfortunately, it seems that I'm right. Unfortunately, what I said after Spezia [that he expects Zaniolo to still be at Roma on February 1] seems it's coming true," Mourinho told reporters ahead of Sunday's trip to leaders Napoli, which Zaniolo will miss.
Mourinho was then asked why he perceived it to be an unfortunate situation.
"Because the player has been saying he wants to go for a month," the Portuguese coach replied.
"After Spezia, I gave Monday off, while Tuesday was an optional training session. All the players who didn't play in La Spezia trained, many players who did play came anyway. These are the players coaches want.
"Even those who don't play must think that the team might need him. I want these players.
"If a player always tells everyone he doesn't want to wear the Roma shirt, I have to say 'unfortunately'.
"The ideal situation is that the player is happy. I said that I expected him to stay, but today I add 'unfortunately'.
"Today I say again that Zaniolo won't be available, that we focus on the match and that my focus is on the players who will be there. It's not the case with Zaniolo."
Bournemouth revealing themselves as a potential destination for Zaniolo struck many as surprising considering their stature in the game – only getting promoted back to the Premier League last season – and the player's own reputation, given he was once deemed Italy's next great hope.
But Mourinho did not seem particularly shocked as he looked to explain the financial might of England's top tier.
"Everything happens because of TV rights. A clear picture is the English Championship play-off final. You have more money on the table even than the Champions League final.
"That says it all: it's a completely different economic power. The Premier League, an economic view, is stronger than Serie A. Maybe Juventus could compete [with Premier League clubs], but the others can't."
Tags