Zaniolo 'at Roma's disposal' as wantaway forward hopes to be welcomed back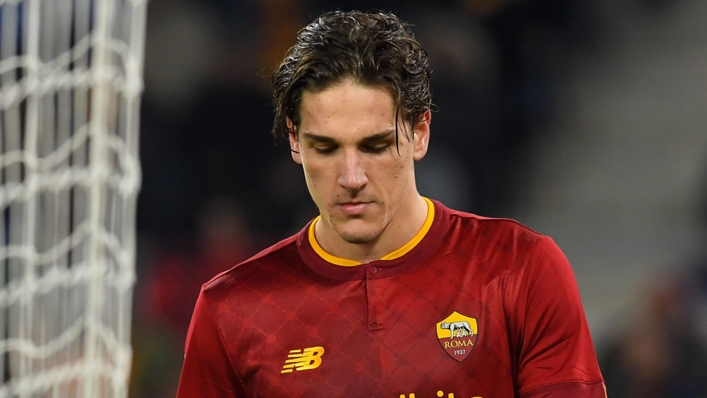 Nicolo Zaniolo asked to be welcomed back in an open letter to Roma's supporters after his failed request to leave in the January transfer window.
Zaniolo was linked with several clubs – including Milan and Bournemouth – after Roma head coach Jose Mourinho confirmed the forward wished to depart after a win against Spezia in mid-January.
The Italy international was keen on a move to Milan and reportedly irked Roma by rejecting the chance to join Bournemouth in a £26.3million (€30m) deal.
That led Mourinho to describe the likelihood of Zaniolo staying at the Stadio Olimpico as "unfortunate" as the end of the window approached, while the forward was also reportedly threatened by fans.
With Zaniolo set to stay at Roma until at least the end of the season after failing to secure a move away, he hopes the Giallorossi will welcome him back into the fold.
"Many things have been said and written about me in recent weeks and many are not true," the 23-year-old said in an open letter sent to ANSA on Wednesday.
"I arrived in Rome as an unknown and Roma and the fans welcomed me as one of their own. They gave me trust, courage and affection in the terrible moments and during my injuries.
"At 23, I have had experiences that many of my colleagues do not in their whole careers, to fall, to get up, to fall again, to get up again, to win.
"In recent months, I went through a delicate period, in which it was difficult to understand what my professional future would be.
"However, I have always worked hard on the pitch and in training with the utmost professionalism. For the first time in recent days I have been afraid, for myself and for my family, and I have felt abandoned.
"The future is in our hands. I hold out mine and place myself at the complete disposal of the Roma family."
Zaniolo – who has only scored once in 13 Serie A appearances this campaign – has not played for Roma since their Coppa Italia win over Genoa on January 12, missing their last three league games.
Tags