Wilson benched as Jets starting quarterback
Nicholas McGee
Stats Perform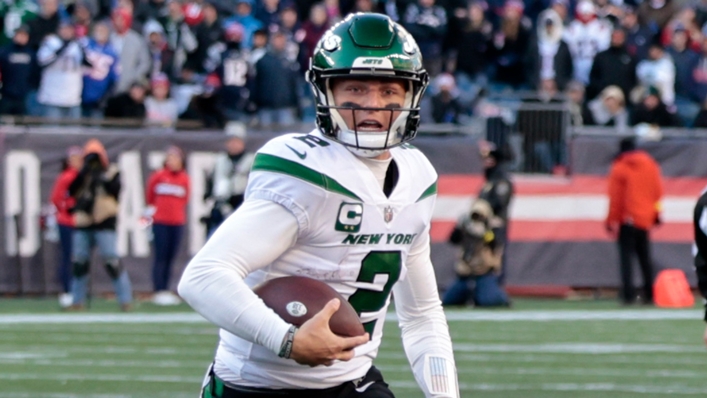 Zach Wilson has been benched as the New York Jets starting quarterback in favour of Mike White.
Robert Saleh made the announcement on Wednesday ahead of his side's Week 12 matchup against the Chicago Bears.
It comes following a dismal offensive performance for the Jets in their 10-3 loss to the New England Patriots, which dropped them to the bottom of the AFC East at 6-4 as they missed the chance to go top of the division.
The Jets averaged just 2.1 yards per play at New England and had only two yards of offense in the second half at Gillette Stadium.
After the game, Saleh had said that benching 2021 second overall pick Wilson was the furthest thing from his mind.
But he subsequently did not commit to starting Wilson against Chicago and has now elected to switch quarterbacks.
Joe Flacco started the first three games of the season when Wilson was out with a knee injury, but Saleh has instead gone with White this time around.
White developed something of a cult following last season when he inspired the Jets to a shock win over the Cincinnati Bengals in which he threw for 405 yards and three touchdowns.
Wilson was heavily criticised for comments in the media in the wake of the defeat to the Patriots as he swiftly rejected the notion he and the offense had let down a defense that only conceded three points. New England's sole touchdown came on a last-gasp punt return.
For his career, Wilson has completed 55.6 per cent of his passes for 3,613 yards, 13 touchdowns and 16 interceptions.
According to Stats Perform data, Wilson's well-thrown rate of 70.6 per cent is the worst in the NFL while his pickable pass rate of 6.47 per cent is only an improvement on that of Taylor Heinicke (7.35 per cent) and Jameis Winston (7.27 per cent) for quarterbacks with a minimum of 100 attempts.
Tags