Yankees bring back Boone despite more MLB playoff failure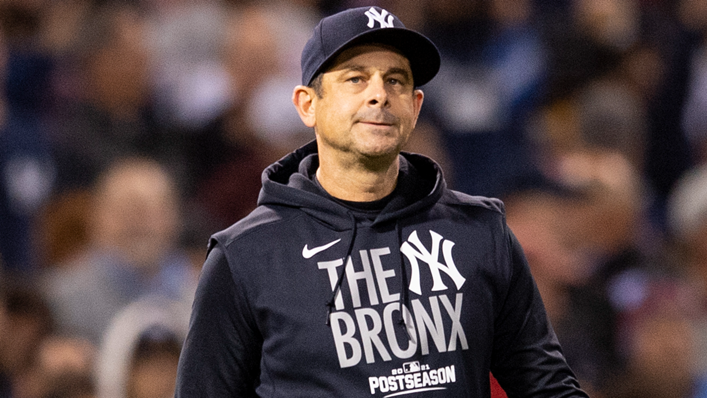 The New York Yankees will bring back Aaron Boone after re-signing the manager on a new three-year deal, despite another unsuccessful MLB season.
Boone has led the storied franchise to the postseason in all four seasons in charge at Yankee Stadium, although they have not reached the World Series during his tenure, creating doubt about his future.
The Yankees – who have not won the World Series since 2009 – bowed out of the 2021 postseason in the American League (AL) Wild Card Game to bitter rivals the Boston Red Sox after finishing third in the AL East with a 92-70 record.
But the Yankees are sticking with Boone in a deal that includes a club option for 2025, they announced on Tuesday.
"We have a person and manager in Aaron Boone who possesses the baseball acumen and widespread respect in our clubhouse to continue to guide us forward," Yankees owner Hal Steinbrenner said in a statement.
"As a team and as an organisation, we must grow, evolve and improve. We need to get better. Period.
"I know Aaron fully embraces our expectations of success, and I look forward to drawing on his intelligence, instincts and leadership in pursuit of our next World Series championship."
Under Boone, the 27-time World Series champions have twice lost the AL Division Series (ALDS) in 2018 and 2020 and once the AL Championship Series (ALCS) in 2019, along with this season's Wild Card defeat.
Boone has compiled a 328-218 managerial record with the Yankees. The 48-year-old is only the second manager in MLB history to reach the playoffs in each of his first four managerial seasons.
"I think I can help lead us to the top. That's why I'm here. That's why I came back," Boone said. "Ultimately, though, the proof will be in the pudding."
The last Yankees manager allowed a fifth season in charge without having won the World Series was Miller Huggins in 1922.
Yankees general manager Brian Cashman said: "We want more and we expect more.
He added: "If he was entering the free-agent market, I believe he'd be the number one managerial candidate in baseball. There's a number of different vacancies, and we would be going to market looking for someone like him."