Klopp: 'World-class' Alexander-Arnold not judged fairly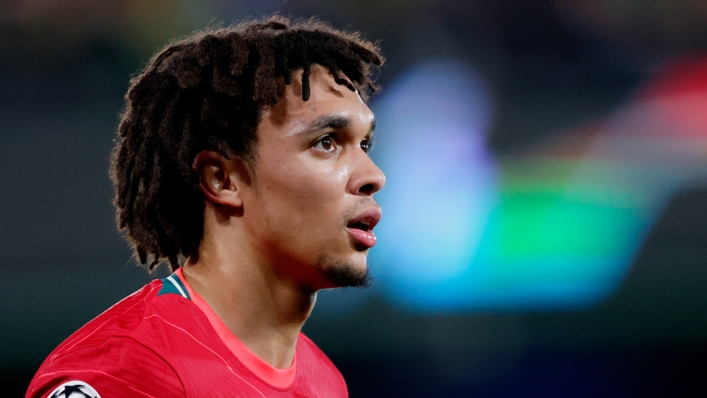 Jurgen Klopp does not understand why anybody would focus only on Trent Alexander-Arnold's defending when he has "world-class talent" on the ball.
Liverpool right-back Alexander-Arnold has been the subject of much debate this week after being left out of England's matchday squad to face Germany on Monday.
Reece James started the match and Kyle Walker came off the bench, while Kieran Trippier was among the substitutes.
James appears to be Gareth Southgate's preferred option in that position, but Walker has made 50 appearances under the Three Lions manager. Trippier has turned out 37 times for Southgate, starting in both the 2018 World Cup semi-final and Euro 2020 final.
That leaves Alexander-Arnold – often outstanding for Liverpool – as fourth-choice and looking highly unlikely to feature at the World Cup, even if selected in the 26-man squad.
Southgate handed Alexander-Arnold his international debut in 2018, but he has since earned just 17 caps for his country.
While the 23-year-old's creative abilities are unquestioned – he leads the England quartet in chances created (2.4) and expected assists (0.32) per 90 minutes in the Premier League in 2022 – there are doubts around his defending.
Klopp has accepted Alexander-Arnold has room for improvement, but ahead of Saturday's game against Brighton and Hove Albion, he also suggested "nobody mentions" when the Liverpool man defends well.
"It's like you have a list, bad defending and good defending, and bad defending [is] massive, and the good defending [list] is like you can't even see," he said.
"That's what I see, because I'm not dumb."
Klopp was also keen to point out some of Alexander-Arnold's shortcomings are due to Liverpool's approach, as they are "extremely brave" in their pressing and "the pitch is too big to be everywhere".
Yet even when Alexander-Arnold is directly at fault, his club manager believes there is too much focus on those shortcomings.
"There are other situations where he was not aware of the situation, where they pass the ball through him, where it was a challenge he should've won – true," Klopp said. "Every player in the league has these challenges.
"With him, you pick it out, analyse so easy. All the experts sitting there, 'in this situation, you see it's a weakness'.
"Honestly, I just don't get it, I just don't get that part of it – that we just accept that a world-class talent gets judged by the one thing he's not as world-class as in other things."
And Klopp added: "If he would not be a good defender, he wouldn't play."
Tags