Women's Euro 2022: Guijarro says Putellas' presence will motivate Spain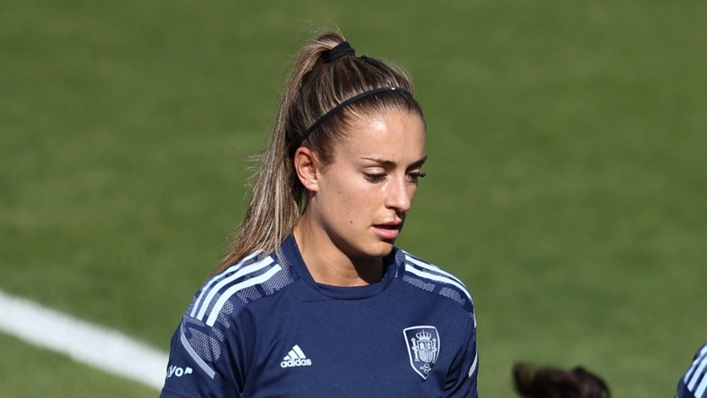 Alexia Putellas' presence at Spain's matches will motivate them to perform well at the Women's Euros, according to team-mate Patri Guijarro, after the Ballon d'Or winner was ruled out of the tournament.
Barcelona star Putellas, who has scored 27 goals in 100 international appearances, will miss Euro 2022 after suffering an anterior cruciate ligament injury in training on Tuesday.
Putellas' absence is a huge blow for Spain, with the 28-year-old, who top-scored in the Champions League with 11 goals last season, considered one of the best players in the women's game.
But Guijarro, another part of an all-conquering Barcelona team which won all 30 domestic league games in 2021-22, says Putellas simply being present will give Spain a boost.
"We are not going to deny that yesterday it was a really hard day," she said in a media conference. "It hit us, because we know that Alexia is fundamental inside of the pitch, as is shown, but also outside of it.
"Obviously we will be very close to cheer her up, to give her energy, to motivate her in any sense, but she has been the first one motivating us.
"She was here today and will be present in our first match. This will give us even more energy to compete and to win.
"Regarding the roles, as [fellow forward] Mariona [Caldentey] said, we all have to accept our responsibility to try to replace her between all of us, all the good things that she makes, with a plus from everyone."
Spain, who are also without record goalscorer Jennifer Hermoso after she suffered a ligament injury of her own, begin their Group B campaign against Finland on Friday.
Earlier on Wednesday, Barcelona president Joan Laporta used the unveiling of Franck Kessie to wish Putellas well in her recovery.
"She had injured herself, and from here I send all the support from the club, from all the people that love her," he said.
"We want her to recover as soon as possible, and we are all here to help her."
Tags