Kirby says England will 'lean on' Wiegman's experience against Sweden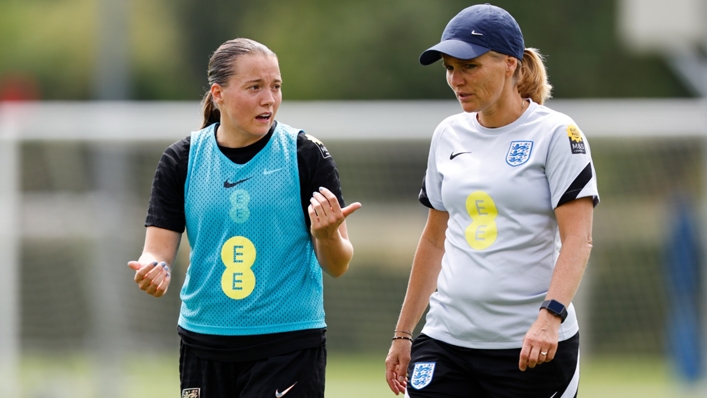 Fran Kirby says England will "lean on" the experience of head coach Sarina Wiegman in their Women's Euros semi-final showdown with Sweden.
Wiegman's side are seeking a third appearance in the final of this competition when they clash with the 1984 champions at Bramall Lane on Tuesday - and first since 2009.
Following their dramatic quarter-final victory over Spain, the Lionesses are now unbeaten in 18 matches, while Sweden have not lost since a 2-1 defeat by Denmark in March 2020.
The tournament hosts will also be aiming to avoid a fourth successive semi-final defeat in major competitions, having fallen at this stage of the 2017 European Championship as well as the World Cup in 2015 and 2019.
Meanwhile, Wiegman is looking to lift this trophy for the second time in as many editions, after guiding her native Netherlands to glory five years ago.
And Kirby, who has played in every match of England's run to the last four, believes the 52-year-old's previous experience of the big occasions will be hugely beneficial in the Lionesses' quest to avert further semi-final heartache.
"She's been there and done it; she's got to finals, she's won major finals," the forward said. "The best person to get us through is her.
"I think she'll come with a lot of experience and a lot of advice; she already has done leading into this tournament.
"For her, it's a case of doing what's normal because she's been to a few now. I'm sure we'll lean on her a little bit in order to get through it.
"First and foremost, she's a great coach; the way that she sees football, the way that she analyses other teams.
"But I think her management of players sticks out for me and the way that she's made every person feel valued in this team - whether you're a starter, whether you're coming in as a sub, whether you don't get any minutes.
"I think everyone knows what their role is in the team and what they're there to do. They've taken that in their stride.
"I think that's a compliment to her in how people have managed themselves and made sure that when you're called upon, you're ready to go. It's not easy to do things like that when you've been sat on the bench.
"To make people still feel valued and feel hungry when they come on the pitch that they can change it, and they can help is a really special quality, and I think she has that."
Tags